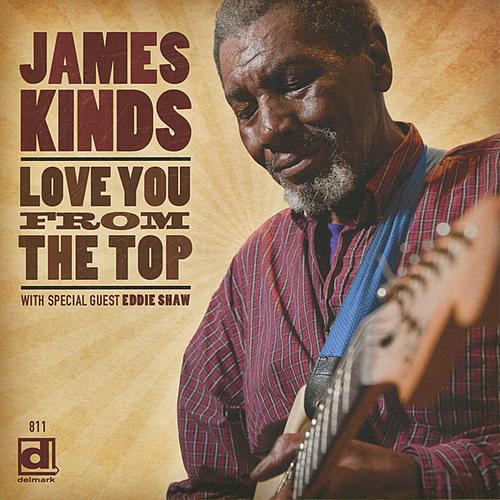 Artist:
James Kinds
Album:
Love You from the Top
Genre:
Chicago Blues
Label:
Delmark Records
Released:
2010
Quality:
FLAC (tracks+.cue)
Tracklist:
Love You From The Top [03:07]
If You Need It [04:28]
I Got A Woman [03:34]
Mason Dixon Line Blues [06:54]
Crack Headed Woman [02:56]
Oo Wee Baby [03:23]
Peggy Sue [03:44]
Take A Look At Yourself [03:55]
Katie [04:01]
Body Slam [02:51]
I Didn't Go Home [04:58]
Johnny Mae [04:29]
I Can't Take It [05:02]
My Mama Told Me [04:46]
High Heel Shoes [03:09]

The blues scene, like the jazz and folk scenes, is full of talented veterans who aren't well known but do respectable work nonetheless. James Kinds is a good example. The Mississippi native, who turned 67 on April 23, 2010, has been active on the Midwestern blues circuit since the late '50s, but Love You from the Top is the first time he has recorded an album for a well-known indie label. And this 2009-2010 recording points to the fact that even though Kinds spent most of his pre-adult years in Mississippi, his specialty is electric Chicago blues (not acoustic Mississippi Delta country blues). That isn't to say that Kinds performs the blues exclusively on Love You from the Top; some of the tracks are 1960s-style soul, including "I Got a Woman" and "Take a Look at Yourself" (which would not have been out of place on a Stax release circa 1967-1968). But electric Chicago blues dominates the 61-minute CD, and that Windy City flavor is impossible to miss on gritty Kinds originals such as "Crack Headed Woman," "My Mama Told Me," "Peggy Sue" (not to be confused with Buddy Holly's 1957 hit), and the autobiographical "Mason Dixon Line Blues." The latter tells a familiar story: the story of a singer who fell in love with the blues when he was growing up in Mississippi and made his way north to Chicago to pursue a career as a bluesman. That has been true of so many blues artists; Muddy Waters, Willie Dixon, Magic Sam, Jimmy Reed, and Howlin' Wolf were all Mississippi natives, but Chicago was where they became famous -- and it is obvious that the Windy City has done a great deal to shape Kinds' musical identity as well. Love You from the Top is a solid, if derivative, electric blues/soul outing from this lesser-known veteran.