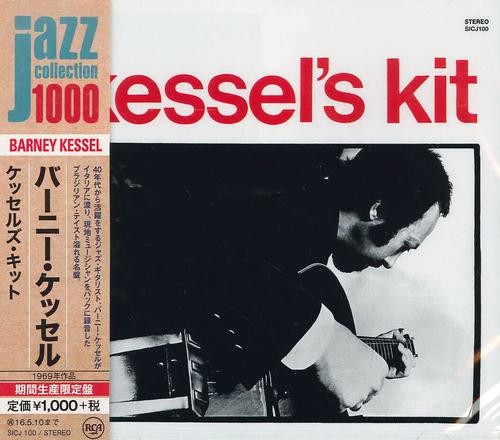 Artist:
Barney Kessel
Album:
Kessel's Kit
Genre:
Cool
Label:
Sony Music Japan
Released:
1969/2015
Quality:
FLAC (tracks+.cue)
Tracklist:
B.J.'s Samba (Kessel) - 4:03
Meu Irmao (Pes) - 4:51
Malibu (Trovajoli) - 5:32
On the Riviera (Kessel) - 3:57
Lison (Pes) - 3:48
Freeway (Capuano-Capuano) - 2:58
From My Heart (Kessel) - 5:09
Swing Samba (Kessel) - 3:41
Amelia (De Natale-Coggio) - 3:20
DOWNLOAD FROM FILECAT.NET >>>
Personnel:

Barney Kessel, Carlo Pes - electric guitar
Giovanni Tommaso - electric bass
Enzo Restuccia - drums
Ciro Cicco - tumba, aggeggi
Antonello Vannucchi - Hammond organ
One of Barney Kessel's greatest albums ever – a rare Italian-only session that has a sparkly Brazilian groove! The record was recorded in Rome in 1970, and it's got Kessel's guitar fronting a combo with organ and some very tight percussion – all dancing around in a fast samba mode that's different from virtually anything else he ever recorded – very groovy, very upbeat, and very much what you might expect when the talents of a west coast guitar giant meets the best of the Italian studio scene of the time! There's loads of original tracks on the set – like "Freeway", "Lison", "BJ's Samba", and "On the Riviera" – and the whole thing has a breezy dancing feel that's really wonderful!