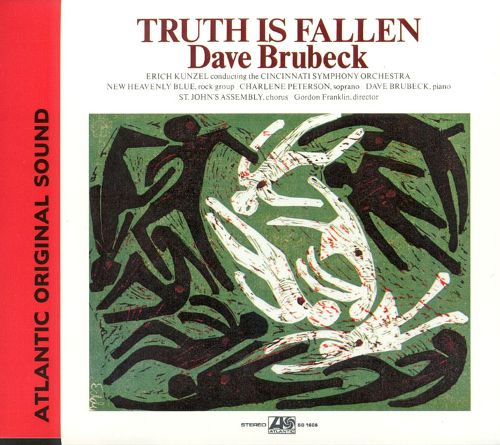 Artist:
Dave Brubeck
Album:
Truth Is Fallen
Genre:
Cool
Label:
Atlantic
Released:
1971/1988
Quality:
FLAC (image+.cue)
Tracklist:
Prelude/Merciful Men Are Taken Away (11:08)
Truth Is Fallen (7:57)
Oh, That My Head Were Waters/Speak Out (duet)/I Called and No One Answered (6:07)
Yea Truth Faileth (2:00)
Truth (Planets Are Spinning) (5:04)
Is the Lord's Hand Shortened? (1:48)
Arise! (5:59)

As the '60s became the '70s and the Nixon/Agnew repression set in, Dave Brubeck threw himself entirely into sympathy with youth; hence this often-vehement choral cantata, written as a reaction to the Kent State and Mississipi State killings. The danger here is that such a work might quickly become dated, although Brubeck, like Benjamin Britten before him in the War Requiem and Leonard Bernstein concurrently in his Mass, tried to alleviate that by juxtaposing protest with religious texts. Amidst the fugal writing, twelve-tone subjects and other erudite classical techniques, Brubeck indulges in a sour assassination of "The Star Spangled Banner," and echoes of "Taps" and "Over There," and a bizarre yet oddly effective prelude, with a country/jazz/rock jam turning into a big-band/symphonic rampage. The big problems occur when Brubeck lets his son Chris's rock group New Heavenly Blue carry the ball, for their passages are filled with embarrassing cliches, musical and literary, made even more quaint by the poor recording quality. Erich Kunzel and the Cincinnati Symphony give their all, but Brubeck doesn't give his piano much to do outside the Prelude. Issued only on LP, this fascinating work is, alas, a period piece in the final analysis, just as feared.