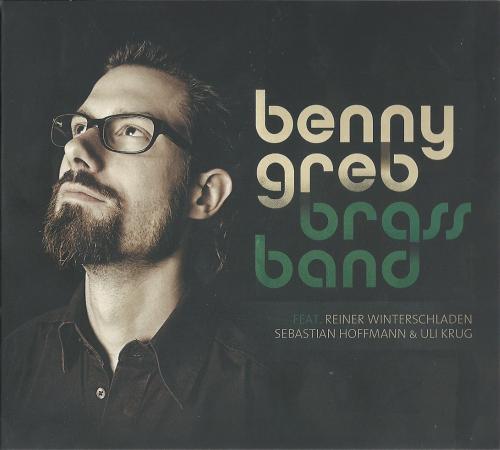 Artist:
Benny Greb
Album:
Brass Band
Genre:
Funk, Big Band
Label:
Grundsound
Released:
2009
Quality:
FLAC (tracks+.cue)
Tracklist:
Good Question (4:01)
Icestattin (2:07)
Detective (4:07)
3/5 Tel (4:37)
Outtasite (2:51)
Kanton (2:51)
Nodding Hill (3:46)
Prelude (1:24)
Hotdog (3:01)
Schaf (3:08)
Next Question (6:20)
Polka (0:53)
Sweetbelt (3:24)
Good Night (3:56)

The second album from Benny Greb, the internationally celebrated drummer. While his first album Grebfruit (2005) was an a capella album, his new one is a declaration of love to one of the great traditional roots of jazz: New Orleans brass bands.
"Not many know about this jazzy side of me. It was time to present it to the world!" he resumes. "And this album is much more than a mere solo recording of a drummer!"
On the basis of jazz and the sound of New Orleans, producer and composer Benny Greb effortlessly combines his ideas from funk, rock, pop, folklore, classical music and film soundtracks. By recruiting the three fellow musicians Reiner Winterschladen, Sebastian Hoffmann and Reverend Uli Krug Benny Greb created his dream-team. With an incredible joy of playing the quartet decant a surprisingly many-folded cocktail of fat, yet frail grooves and a truly rattling brass band sound.
"I always love it when musician who are known for a certain kind of style start playing songs, which are not typical for their genre, while still keeping a the true sound of their instruments. That always sounds amazing", muses Benny. "But why does a drummer feel inclined to collaborate with wind instruments, to begin with?" Benny is quick to answer this: "When I was a little boy, I took lessons in playing the trumpet. I did also play the drums back then, but that was rather for my self and autodidactic."
Because of his love for funky and rocky grooves, he more and more neglected his classical playing of the trumpet but it always remained one of his passions. Also because of his background (in 1980 Benny was born in the Bavarian town of Augsburg) there still was an account to settle in the department of brass-orientated folk music, the friendly ex-Bavarian laughs. As a young boy, in 1992, he spent half a year in the United States. There he discovered music which merged the brass sound he knew with driving, dirty grooves this was the second kick he got. Eight years later he went to see the Ray Anderson Pocket Brass Band play a live concert in Munich, and this really lit the fire. All this, fused with even more funk, more pop and more backbeat wouldnt that be just fab?!