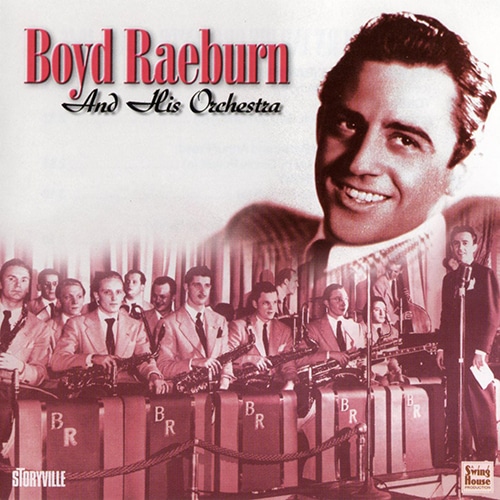 Artist:
Boyd Raeburn
Album:
Boyd Raeburn And His Orchestra 1945-1946
Genre:
Big Band, Swing
Label:
Storyville
Released:
2000
Quality:
FLAC (tracks+.cue)
Tracklist:
Dalvatore Sally (2:47)
Tonsillectomy (2:35)
Temptation (2:58)
Boyd Meets Stravinsky (3:21)
There's No You (3:53)
Caravan (3:14)
Memphis In June (4:02)
The Eagle Flies (4:10)
I Can't Believe That You're In Love With Me (2:01)
Two Spoos In An Igloo (2:40)
Forgetful (3:02)
Blue Prelude (3:30)
Ol' Man River (2:12)
A Night In Tunisia (3:00)
Rip Van Winkle (2:44)
March Of The Boyds (3:20)
Hey, Look, I'm Dancing (2:38)
Mabel, Mabel (2:33)
More Than You Know (4:03)
That's Where I Came In (2:30)
The Hep Boyds (3:03)
Boyd's Nest (3:31)
DOWNLOAD FROM FILECAT.NET >>>
The music on this CD represents both radio studio recordings and live club performances from Los Angeles in 1945 & 1946, shortly after Boyd Raeburn had moved his centre of operations from New York. At the time of these recordings, Raeburn's music was rapidly evolving from swing to more progressive, modern jazz. The musical repertoire here is a unique blend of popular standards and progressive original material. The band was at the height of its popularity alongside the other progressive orchestras of Stan Kenton and Woody Herman. Like these other two famous bands, Boyd Raeburn's was a gathering place for young talent of the nascent bop school, in this case tenor saxophonist Lucky Thompson, trombonist Britt Woodman, pianist Dodo Marmarosa and bassist Harry Babasin. This session also bears the strong influence of Raeburn's "modernist" composer and arranger, George Handy. Listening to this exciting orchestra, with its talented soloists and fresh arrangements, one can understand why Duke Ellington was one of Boyd Raeburn's most enthusiastic supporters at the time.