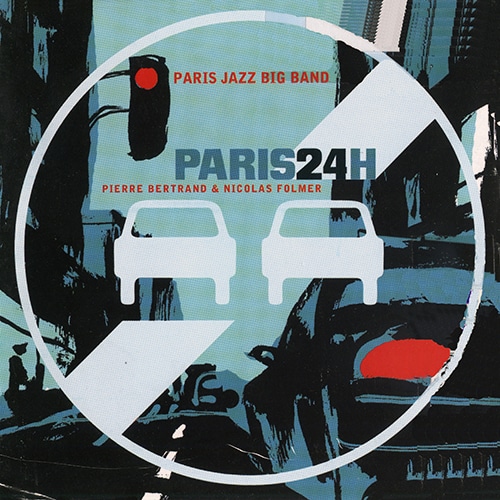 Artist:
Paris Jazz Big Band
Album:
Paris 24H
Genre:
Modern Big Band
Label:
Cristal Production
Released:
2004
Quality:
FLAC (tracks+.cue)
Tracklist:
Le cyclopathe (5:38)
Place pigalle (7:50)
Musee d'orsay (5:50)
Galeries (5:13)
Rendez-vous (4:56)
Metropolitain (1:23)
Tuileries (7:03)
La pluie (6:57)
Metataxi (6:46)
Bateaux-mouches (4:54)
Sous les toits (6:08)
Reve (4:36)

Personnel:

Herve Meschinet: alto saxophone, flute, piccolo
Stephane Chausse: alto saxophone, flute, bass clarinet
Stephane Guillaume: tenor, soprano saxophone, flute
Nicolas Dary: tenor saxophone, flute
Pierre Bertrand: tenor, soprano saxophone, flute
Frederic Couderc: baritone, bass clarinet, flute, bass flute
Tony Russo, Nicolas Folmer: trumpet
Michel Feugere, Fabien Mary: trumpet, flugelhorn
Denis Leloup, Guy Figlionlos, Philippe Georges: trombone
Didier Havet: bass trombone, tuba
Alfio Origlio: piano, Fender Rhodes
Stephane Kerecki: acoustic bass

Laurent Vernerey: electric bass
Laurent Robin: drums
Stephane Huchard: drums

Guests:
Minino Garay: percussion
Olivier Ker Ourio: harmonica
Andre Ceccarelli: drums
Jean Ceccarelli: drums
Jean-Paul Ceccarelli: drums
Regis Ceccarelli: drums
We have decided to choose PARIS, glorious & mysterious, as a starting point of our compositions. The omnipresence of rhythm in the sounds of the city made us want to base this record on original grooves of drums & percussions, and then to give free rein to our impressions and images of PARIS. We have thus rendered 24 hours of the life of an imaginary observer in PARIS into music.
Having never been to Paris, I can't bear witness to the accuracy of the Paris Jazz Big Band's musical portrayal of a dozen of the city's well-known landmarks and experiences during a typical day. What I can say is that Paris 24H presents a colorful and charming snapshot of Europe's leading tourist destination, one that beckons the indecisive traveler to come share the adventure. The idea, say co-music directors Pierre Bertrand and Nicolas Folmer, was to "give free rein to our impressions and images of the city. We have thus rendered twenty- four hours [in] the life of an imaginary observer in Paris into music.
What strikes one immediately is that Paris has a rhythm—make that rhythms—of its own, and that the PJBB expresses them in various ways, even employing the services of no less than four drummers, all surnamed Ceccarelli, on the brief "Metropolitain, written by one of the aforementioned timekeepers, André Ceccarelli (who also guests on "Tuileries"). The other beguiling numbers were composed either by Bertrand (six) or Folmer (five).
The city's pulse is strongest on "Le Cyclopathe, "Galeries, "Metropolitain and "Metataxi, most relaxed on "Musée D'Orsay, "Rendez-vous, "La Pluie (the rain?) and "Sous les Toits. "Place Pigalle and "Tuileries are among the lovelier places to visit. Trumpeter Folmer and saxophonist Bertrand are engaging soloists, leading a persuasive group that includes pianist Alfio Origlio, soprano Stéphane Guillaume, baritone Frédéric Couderc, flutist Hervé Meschinet, bassist Stéphane Kérécki, trumpeter Fabien Mary, and trombonist Denis Leloup. Guest Olivier Ker Ourio adds a warmhearted harmonica solo on "Musée.
Someday, perhaps, I'll have a chance to visit Paris and experience its many wondrous sights and sounds for myself. Until then, I at least have the Paris Jazz Big Band's musical embodiment to remind me of its fascinating variety and enduring charm.