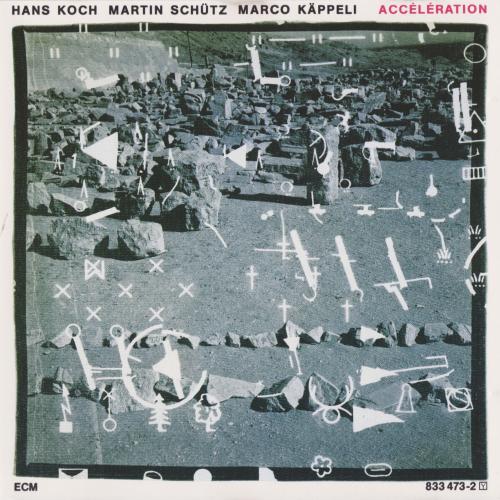 Artist:
Hans Koch, Martin Schutz, Marco Kappeli
Album:
Acceleration
Genre:
Modern Creative
Label:
ECM Records
Released:
1988
Quality:
FLAC (image+.cue)
Tracklist:
Shy Csardas (Koch) - 5:06
Im Delirium (Koch) - 2:54
Midori (Koch) - 8:50
Loisaida (Koch) - 1:57
Glas(s)no(s)t (Koch) - 6:10
Tatzelwurm (Koch) - 6:31
Nitrams Rock (Koch) - 4:27
Acceleration Controlee (Koch) - 5:57
GG-U-GG-U-RR-U-GG (Koch) - 1:56

Personnel:

Hans Koch - clarinet, bass clarinet, tenor saxophone, soprano saxophone
Martin Schutz - bass, cello
Marco Kappeli - drums
The debut recording of classically trained Swiss clarinetist Hans Koch's jazz trio with bassist/cellist Martin Schütz and drummer Marco Käppeli, Accélération is not a shy blip in the fascinating potpourri of ECM's 80s period, by which time Koch's formidable outfit had left its footprints in standard territories before branching out here with a set of nine originals. Into this, the shivering cello and pointillist rims of "Shy Csárdás" provide a fitting point of entry. Like an opera overture these sounds recede as quickly as they rise, making way for the clarineted protagonist whose introductory aria secures a tether of human folly to the romantic sentiments that follow. Koch's forte sings as it moves and moves as it sings, finding an ecstatic dance "Im Delirium," which gives us also the album's first and last tenor line over a waltzing bass. "Midori" is a synaesthetic exercise, rustling through leaves and time with the obsession of hunger and divulging some fine moments from Schütz against a spate of frenetic drumming. That clarinet waves like the last thread to something familiar as it snaps into an ecstatic death throe. "Loisaida" casts a dreamy spotlight thereon and unspools a whirligig of a denouement in "Glas(s)no(s)t." Of this, the engaging stichomythia between cello and soprano is but an appetizer to the screeching "Tatzelwurm," itself a preamble to the bouquet of trio action that begins with "Nitrams Rock" and ends in the playful piece of swank that is "GG-U-GG-U-RR-U-GG."
A personal favorite among ECM's lesser-knowns.