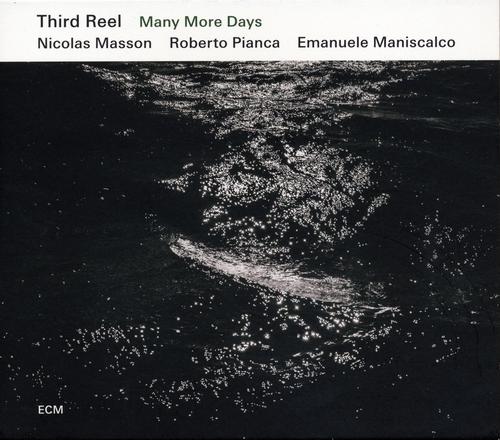 Artist:
Third Reel
Album:
Many More Days
Genre:
Modern Creative, Third Stream
Label:
ECM Records
Released:
2015
Quality:
FLAC (tracks+.cue)
Tracklist:
Gilberto Stimmung (Maniscalco) - 3:32
Afterwards (Maniscalco) - 3:03
Fourth Reel (Maniscalco) - 3:11
Simple (Masson) - 3:34
Lara's Song (Pianca) - 4:46
Strand (Maniscalco) - 2:58
White (Masson) - 2:27
Happy People (Pianca) - 2:48
Many More Days (Masson) - 4:18
Hill (Masson) - 2:55
Fast Forward (Masson) - 3:15
Two-Part Chorale (Maniscalco) - 3:15
White Epilogue (Masson) - 1:23

Personnel:

Nicolas Masson - tenor saxophone, soprano saxophone, clarinet
Roberto Pianca - guitar
Emanuele Maniscalco - drums, piano
The second ECM album from Swiss/Italian trio Third Reel takes its open-plan music to the next level. Emanuele Maniscalco, Nicolas Masson and Roberto Pianca all bring music into Third Reel, and each of them has his own distinct compositional signature, but from the outset their pieces are "always conceived as material for multiple, unpredictable developments." Compositional guidelines are like gateways into fields to explore. Masson's elegant clarinet and lean-toned tenor are emphasized, Maniscalco floats between drums and piano, quietly lyrical on both instruments, and Pianca is most often a kind of real-time orchestrator, subtly enfolding the interaction with swelling sustained chords. Like the eponymous 2013 debut album, Many More Days was recorded at RSI in Lugano with Manfred Eicher as producer.