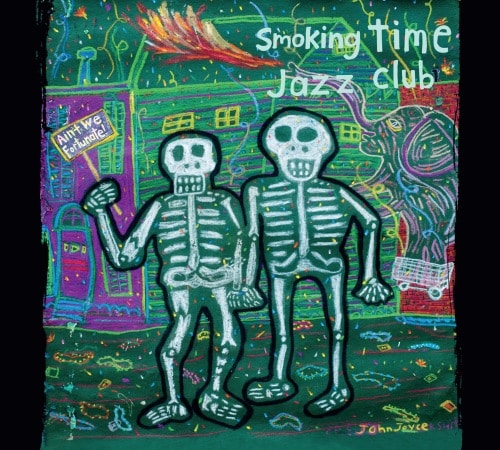 Artist:
Smoking Time Jazz Club
Album:
Ain't We Fortunate!
Genre:
New Orleans Jazz, Retro Swing
Released:
2017
Quality:
FLAC (tracks)
Tracklist:
Downtown doin's
Snag it
Southern sunsets
Copenhagen
Taint a fit night out for man nor beast
Blues of the vagabond
Jubilee stomp
Jungle crawl
Gully low blues
Petit fleur
Washboard Wiggles
Jungle blues
Shreveport stomp

Personnel:

Russel Ramirez – trombone
Joe Goldberg – clarinet, alto sax
Jack Pritchett – trumpet
Joseph Faison – banjo
John Joyce – upright bass
Simon Lott – drums
The new recording by the Smoking Time Jazz Club that brings the musical ideas of their 1920's heroes into the twenty first century with a Bang!
Where there's smoke there's fire and Joe Goldberg is hot on the trail of his musical mentors with a romping rendition of Johnny Dodds' clarinet showpiece Shreveport Stomp and a salute to Sidney Bechet on Petit Fleur. Jack Pritchett and the echoes of Bix Biderbeck can be heard on the classic Copenhagen and he plays a searing trumpet introduction on Louis Armstrong's Gully Low Blues while Jack and Joe share a vocal track that gives you the "low down on the low down" 'ala Armstrong. Seeking inspiration from the great "Tricky Sam" Russel Ramirez is on fire. He plays breaks like he has all the time in the world. Red hot from the tailgating trombone on Jubilee Stomp to the singing trombone on Blues Of The Vagabond. John Joyce is livin' the dream with a hard driving beat on the upright bass and a visceral "man on fire" scream on Taint A Fit Night Out For Man Nor Beast. Hot jazz finds it's home when Joseph Faison plays the banjo. From the first song Downtown Doins he lights a fire under the band and then warbles a gut bucket blues on King Oliver's Snag It. On the drums Simon Lott aka "Context Killer" kicks out the jams on Tiny Parham's Washboard Wiggles and can't go wrong when he bangs a gong on Jelly Roll Morton's Jungle Blues. You won't hear Sarah Peterson singing on this recording because she was out of town for a season but we are happy to report Sarah and the band are now in New Orleans gigging and rehearsing songs for the next recording project...Ain't We Fortunate!