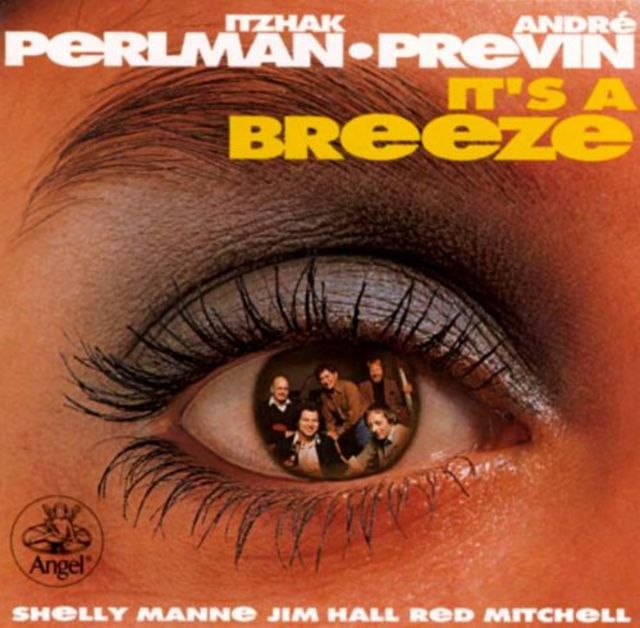 Artist:
Itzhak Perlman & Andre Previn
Album:
It's a Breeze
Genre:
Bop, Cool
Label:
Angel Records
Released:
1981/1992
Quality:
FLAC (tracks+.cue)
Tracklist:
It's a Breeze (Previn) - 3:35
Rain in My Head (Previn) - 6:38
Catgut Your Tongue (Previn) - 6:13
It's About Time (Previn) - 3:14
Quiet Diddling (Previn) - 5:08
A Tune for Heather (Previn) - 7:45
Bowing and Scraping (Previn) - 5:04
The Red Bar (Previn) - 5:22

Personnel:

Itzhak Perlman - violin
Andre Previn - piano
Shelly Manne - drums
Jim Hall - guitar
Red Mitchell - bass
Perhaps Previn and Perlman figured that it would be a breeze to turn out a sequel to the surprisingly successful A Different Kind of Blues, but the bloom was definitely off the rose the second time around. The same ingredients are in place -- eight new Previn compositions with written-out solos for Perlman, and the rhythm section of Jim Hall, Red Mitchell and Shelly Manne. But the freshness of the earlier album is largely missing; the tunes aren't as good, the tempos often drag, the playing in general sounds routine and even arch. Even Perlman himself seems bored at times with his lines, his holiday drawing to a close and perhaps anxious to get back to playing concertos and encores. This would be, in any case, the final roundup for the Previn/Perlman jazz act and also, sadly, the last time that Previn would play with his old buddies Mitchell and Manne.
Review by Richard S. Ginell