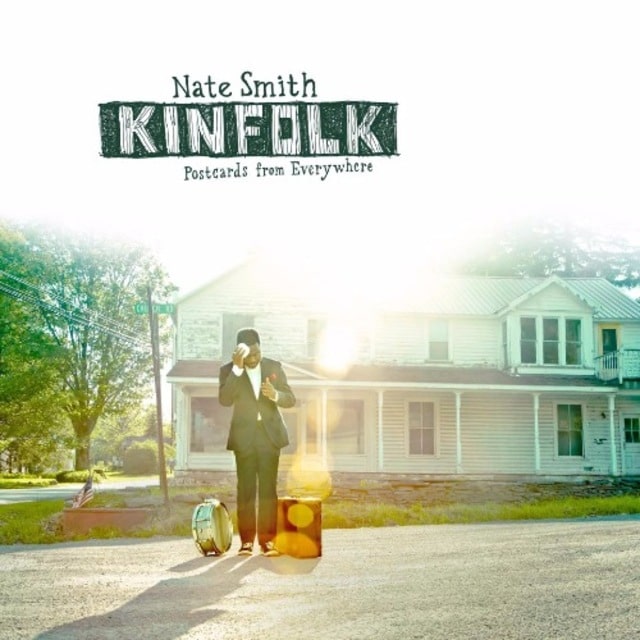 Artist:
Nate Smith
Album:
Kinfolk: Postcards From Everywhere
Genre:
Soul, Funk, Contemporary Jazz
Label:
Ropeadope Records
Released:
2017
Quality:
FLAC (tracks)
Tracklist:
Intro: Wish You Were Here
Skip Step
Bounce: pts I + II
Mom: Postcards From Detroit/Floyd/Salem
Retold
Disenchantment: The Weight
Spinning Down
Pages
From Here: Interlude
Morning and Allison
Spiracles
Small Moves: Interlude
Dad: Postcards from Isaac Street
Home Free (for Peter Joe)

Personnel:

Nate Smith - drums, percussion, fender rhodes, synths, sounds
Kris Bowers - piano, fender rhodes
Jaleel Shaw - alto & soprano sax
Fima Ephron - electric bass
Jeremy Most - guitars

guests:
Dave Holland - acoustic bass (2, 7)
Lionel Loueke - guitar (2, 7)
Chris Potter - tenor sax (3)
Adam Rogers - guitars (11)
Gretchen Parlato - vocals (8)
Michael Mayo - vocals (2, 5)
Amma Whatt - vocals (6, 10)
Stephanie Matthews - violin I (6, 14)
Juliette Jones - violin II (6, 14)
Christiana Liberis - viola (6, 14)
Reenat Pinchas - cello (6, 14)
Regarding his new project, KINFOLK, Mr. Smith says "In conceiving this project, I wanted to focus on creating the material with very few ingredients; just improvising at the drums or piano or singing ideas into a voice recorder, focusing primarily on rhythm and melody. I want to see what other ingredients the players or singers would bring to the material. I'm interested in a true band sound: I want to know how the musicians will color, shape, and season the raw ingredients, and how to pull all of those pieces together to a whole."