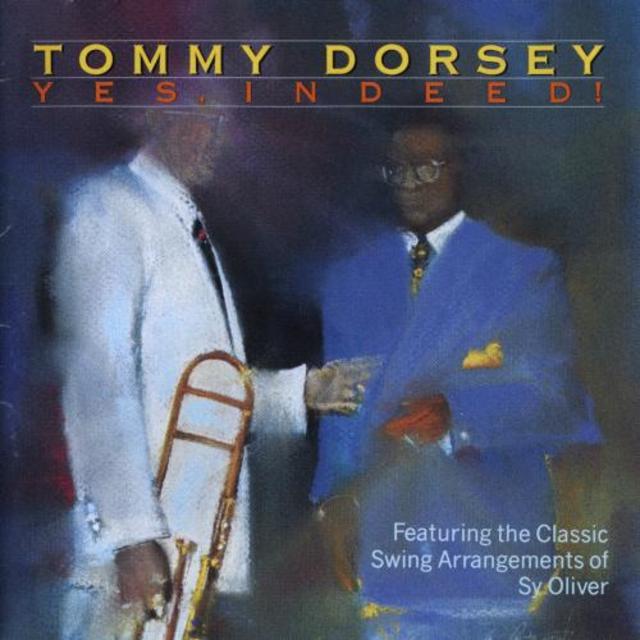 Artist:
Tommy Dorsey
Album:
Yes, Indeed!
Genre:
Big Band, Swing
Label:
Bluebird/RCA/BMG
Released:
1990
Quality:
FLAC (image+.cue)
Tracklist:
Lonesome Road, Pt. 1 (2:35)
Lonesome Road, Pt. 2 (2:17)
Well All Right (Tonight's the Night) (3:11)
Night in Sudan (3:12)
Stomp It Off (3:43)
Easy Does It (3:32)
Quiet Please (It's the Drummer in Me) (2:45)
So What (2:41)
Swing High (2:48)
Swanee River (3:13)
Deep River (3:56)
Yes, Indeed! (3:28)
Loose Lid Special (2:46)
Swingin' on Nothin' (3:15)
Hallelujah! (3:01)
Moonlight on the Ganges (2:53)
Well, Git It! (3:01)
Mandy (2:57)
Opus One (2:54)
Chloe (3:12)
At the Fat Man's (3:09)
The Minor Goes Muggin' (3:01)

This CD includes many of Tommy Dorsey's very best recordings from 1939-1942 along with four selections dating from 1944-1945. During this period the sound of his orchestra had changed from the earlier days, thanks in large part to Sy Oliver's arrangements and the hard-driving drums of Buddy Rich. With such soloists as trumpeter Ziggy Elman, tenor-saxophonist Don Lodice, and clarinetist Johnny Mince (in addition to Dorsey's trombone), this orchestra could play jazz with the best of their contemporaries, although many of their other recordings (not included here) actually showcased vocals and dance music. Highlights of this recommended disc include "Well, All Right," "Stomp It Off," "Quiet Please," "Swing High," "Swanee River," "Deep River," and "Well, Git It!," while the later tracks include "Opus #I," the Charlie Shavers feature "At the Fat Man's," and a guest appearance by Duke Ellington on "The Minor Goes Muggin'."
Review by Scott Yanow