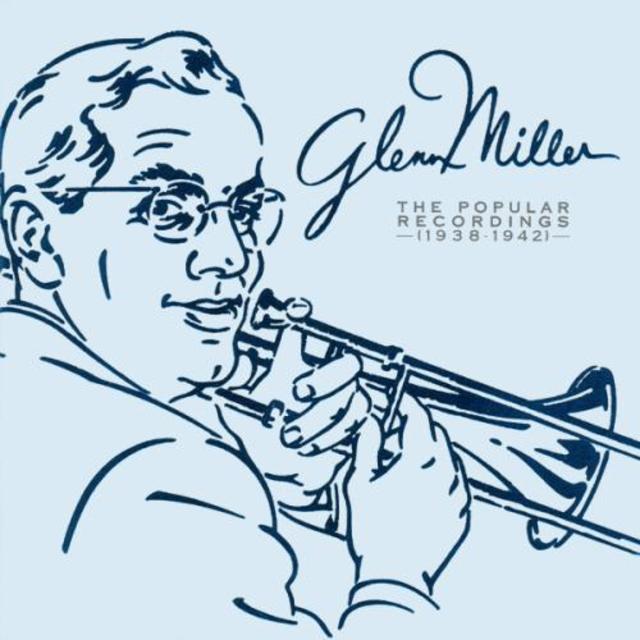 Artist:
Glenn Miller
Album:
The Popular Recordings (1938-1942)
Genre:
Big Band, Swing
Label:
Bluebird/RCA
Released:
1989
Quality:
FLAC (tracks+.cue)
Tracklist:
Disc 1:



Moonlight Serenade
King Porter Stomp
And The Angels Sing
The Lady's In Love with You
Little Brown Jug
But It Didn't Mean A Thing
Stairway To The Stars
Pagan Love Song
Over The Rainbow
We Can Live On Love (We Haven't Got A Pot To Cook In)
Glenn Island Special
It's A Blue World
Ain't Cha Comin' Out
Runnin' Wild
Moon Love
Farewell Blues
Blue Evening
Bluebirds In The Moonlight
Sunrise Serenade
Oh! You Crazy Moon
Disc 2:



In The Mood
Indian Summer
The Rhumba Jumps
Star Dust
Polka Dots And Moonbeams
Tuxedo Junction
April Played The Fiddle
Danny Boy (Londonderry Air)
Be Happy
The Nearness Of You
My Blue Heaven
It's Always You
Bugle Call Rag
A Nightingale Sang In Berkeley Square
Pennsylvania 6 5000
Yes, My Darling Daughter
Anvil Chorus Part I & Part II
I Know Why (And So Do You)
You Stepped Out Of A Dream
I Drempt I Dwelt In Harlem
Disc 3:



A String of Pearls
Perfidia
Sun Valley Jump
Slumber Song
The Spirit Is Willing
Elmer's Tune
Adios
Moonlight Cocktail
Moonlight Sonata
Chattanooga Choo Choo
At Last
Don't Sit Under the Apple Tree
Rhapsody In Blue
(I've Got A Gal In) Kalamazoo
Serenade In Blue
Caribbean Clipper
That Old Black Magic
Juke Box Saturday Night
Moonlight Becomes You
American Patrol

At the time of its initial appearance in 1989, this three-CD set was a significant improvement over any of the compact disc editions of Glenn Miller's music to have made it out before. Not only did its 60 songs offer the proper scope and range to allow one to fully appreciate the depth of Miller's popularity and talent, but this was also part of the CD era's second wave of compilations and remasterings -- in contrast to the boomtown recklessness and corporate ineptitude that had characterized CD reissues in the mid-'80s, producers were now aware that there were gradations in the sound quality of digital masters and room for improvement in the technology. The late Joe Lopes engineered this set to last in the ears of the listener, and producer John Snyder oversaw what was, at the time, one of the finest and most comprehensive CD reissues ever accorded a big-band leader. The brass has bite and the horns and reeds have body, and the entire band is in sharp relief as they hadn't been heard since the early '40s and their last civilian concerts. It has since been supplanted, itself, by other, more recent remastered editions utilizing still better technology, including The Essential Glenn Miller (1995), Platinum Glenn Miller (2003), and The Centennial Collection (2004) -- reducing the noise in the masters even further, among other differences -- but holds up as perhaps the best authorized, large-scale survey of Miller's work other than the 13-disc complete set from BMG. These 60 songs represent a compromise between that set's completeness and the superficiality of 1988's Pure Gold, with its ten songs and minimal annotation.
Review by William Ruhlmann