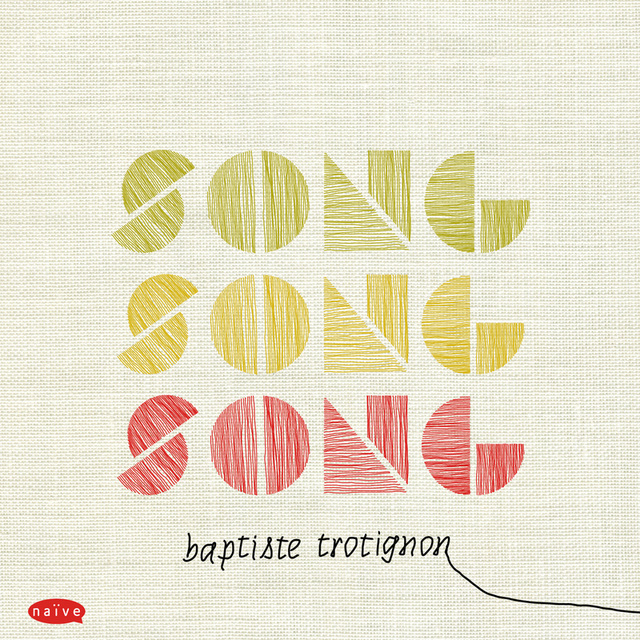 Artist:
Baptiste Trotignon
Album:
Song Song Song
Genre:
Contemporary Jazz, Piano, Vocal
Label:
Naïve
Released:
2002
Quality:
FLAC (tracks)
Tracklist:
La répétition
Awake
Mon fantôme
Ne mequitte pas / La javanaise
Palavas-les -flots
Gone
Choro da cigarra
Ma plus belle histoire d'amour
End of the gig
Une petite fille
Du bist die Ruh
DOWNLOAD FROM FILECAT.NET >>>
Personnel:

Baptiste Trotignon (piano)
Jeanne Added (vocals - 2, 9, 11)
Melody Gardot (vocals - 3)
Christophe Miossec (vocals - 5)
Mônica Passos (vocals - 6, 7)
Minino Garay (percussion, body rhythm, cajon - 1, 7, 10)

Also featuring:
Jean-Baptiste Laya (guitar - 3)
Thomas Bramerie (bass - 2, 3, 6, 9)
Dré Pallemaerts (drums - 2, 6, 9)
Jean-Charles Ronciero (viola - 2, 6)
Florence Roussin, Lionel Turchi (violins - 2, 6)
Here's an interesting little disc from a French pianist that might pique your attention. Baptiste Trotignon mixes and matches his ivory talents between a regular trio (with Thomas Bramerie/b and Dre' Pallemaerts/dr and duets & trios with various sympathetic vocalists. Of the former, there's a thoughtful jaunt on"End of a Gig" and some colorful Cape Verdian rhythms on "Choro D Cigarra." Vocalist Jeanne Added lends her lithe voice to a tropical "La Repetition" and a noodling "Du Bist Die Ruh," while Monica Passos delivers one of the high points on "Gone" which starts with a whimper and leads up to a crescendo of a bang. Melody Gardot shows up for a very hip "Mon Fantome" while Christophe Miossec's low tenor creates an intimate duet with the pianist on "Palavas-les-Flots." Varied and very interesting.
Miwa Rosso (cello - 2, 6)