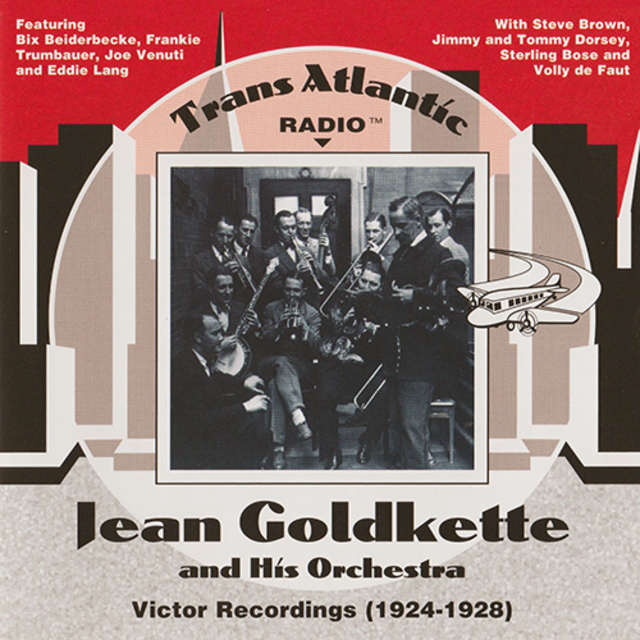 Artist:
Jean Goldkette And His Orchestra
Album:
Victor Recordings (1924-1928)
Genre:
Swing
Label:
Trans Atlantic Radio
Released:
2001
Quality:
FLAC (tracks+.cue)
Tracklist:
It's The Blues (2:47)
I Didn't Know (3:09)
After I Say I'm Sorry (3:17)
Dinah (3:06)
Roses (2:59)
Gimme A Little Kiss (2:40)
Lonesome And Sorry (3:00)
Idolizing (2:56)
Hush-A-Bye (3:31)
I'd Rather Be The Girl In Your Arms (3:05)
Sunday (3:04)
Cover Me Up With Sunshine (3:09)
Just One More Kiss (3:09)
Proud Of A Baby Like You (3:10)
I'm Looking Over A Four Leaf Clover (3:18)
I'm Gonna Meet My Sweetie Now (2:47)
Hoosier Sweetheart (3:03)
Look At The World And Smile (2:42)
My Pretty Girl (2:46)
A Lane In Spain (3:18)
Slow River (3:07)
In My Merry Oldsmobile (2:33)
Blue River (3:34)
Clementine (3:06)
So Tired (3:18)
Just Imagine (3:02)

In 2002 the Transatlantic Radio label fortified their catalog with a 26-track anthology of historic sides by the Jean Goldkette Orchestra. Victor Recordings 1924-1928 neatly samples some of the group's best works by beginning in March 1924, a good nine months before Bix Beiderbecke first sat in, and ending in December 1928, more than a year after Bix had joined the ranks of Paul Whiteman's Orchestra, along with some of Goldkette's most capable players. During the mid-'20s the Goldkette band played its best music in front of live audiences, using arrangements by Bill Challis. Studio recordings captured some of the magic in the form of sweet and hot dance music punctuated by period pop vocals. Rather than packing in a lot of alternate takes (which may be found on other equally fine collections), the folks at Transatlantic chose to lay out a sensible selection that accurately embodies what the Goldkette band was all about. A quick perusal of the personnel is most revealing, for in addition to Beiderbecke's cornet one may listen for the trombones of Tommy Dorsey, Bill Rank, and Spiegel Wilcox along with reed players Don Murray, Danny Polo, and Frankie Trumbauer, who more or less assumed leadership of the band in 1926. Additional members of note were violinist Joe Venuti, guitarist Eddie Lang, banjoist Howdy Quicksell, string bassist Steve Brown (who replaced tuba handler Irish Henry early on), and drummer Chauncey Morehouse. Many of these names pop up on sessions led by Bix and Trumbauer during this period. The vocals are by Billy Murray ("I'm Looking Over a Four Leaf Clover"), Frank Bessinger ("Idolizing"), and a very entertaining vocal group identified as Al Lynch and the Keller Sisters, usually billed on the 78-rpm record label as "Keller Sisters and Lynch."
arwulf arwulf, AMG
In 1915, Jean Goldkette was the pianist with the ensemble that walked out of Lamb's Cafe, in protest, when Tom Brown's "Band from Dixieland" began performing there. Later recalling that first encounter with jazz, he wrote that it made a "profound impression" on him. In fact, he credited the event as having "changed the entire destiny of [his] career." Indeed, it was not long, thereafter, that Goldkette set aside his ambition to become a concert pianist and began working for Edgar Benson, whose cadre of bandleaders, at that time, dominated Chicago's music scene. In 1921, Goldkette was dispatched, by Benson, to lead a band at the Detroit Athletic Club. Serving in this capacity, he began building his own operation, and by 1924, Goldkette was providing bands to venues throughout Detroit, including the Book-Cadillac Hotel. It was also, in 1924, that Goldkette organized a full-time band for his own Graystone Ballroom. This was the band that would be most identified with Jean Goldkette.
Of course, there would be other well-known Goldkette units, such as McKinney's Cotton Pickers and the Orange Blossoms (later known as the Casa Loma Orchestra), but during that pivotal period from 1924 to 1928, it was the band known as "Jean Goldkette and His Orchestra" that was first and perhaps most notable in bridging the gap between jazz and popular music. In so doing, Jean Goldkette became instrumental in popularizing jazz, while nurturing many of the idiom's most formidable talents, including Frankie Trumbauer, Bix Beiderbecke and pioneering bassist, Steve Brown.
The reputation of the Goldkette band, even among some of the biggest legends in jazz, survives in recollections of the band's live performances. One such performance took place at the Roseland Ballroom, in October 1926, during a "battle of the bands" with Fletcher Henderson's orchestra. Years later, while reflecting on that night, Rex Stewart wrote that "we simply could not compete with Jean Goldkette's Victor Recording Orchestra. Their arrangements were too imaginative, their rhythm too strong."
Given the abundance of such accolades, it would be interesting to hear how the Goldkette orchestra sounded, during their live performances. Of course, none of these performances was ever recorded. (In those days, few such performances ever were.) Nevertheless, we do have their studio recordings, and these, perhaps even more than any live recording, give us an important insight into the talent and creativity of the musicians and arrangers who made them. For it is not merely despite the limitations of the early recording industry, but because of them that so many of the Goldkette recordings are a delight to hear. To be sure, it is the true measure of talent that can take three minutes of Tin Pin Alley, turn them into something exciting and memorable, and still satisfy the discerning ear of a Victor recording executive.
While various versions of the Goldkette orchestra continued to record until 1929, the original Goldkette unit did its last live performance, on September 18, 1927. After the breakup of the band, many of its members - including Bix, Tram, Bill Rank, Don Murray and Chauncey Morehouse -- joined Adrian Rollini and His New Yorkers. As for Jean Goldkette, his interest in organizing and booking bands gradually waned, through the 1930s, as he returned to his youthful ambition of becoming a concert pianist. This ambition was at least partially realized, as he made concert appearances into the 1950s, including solo performances with the Detroit Symphony Orchestra.