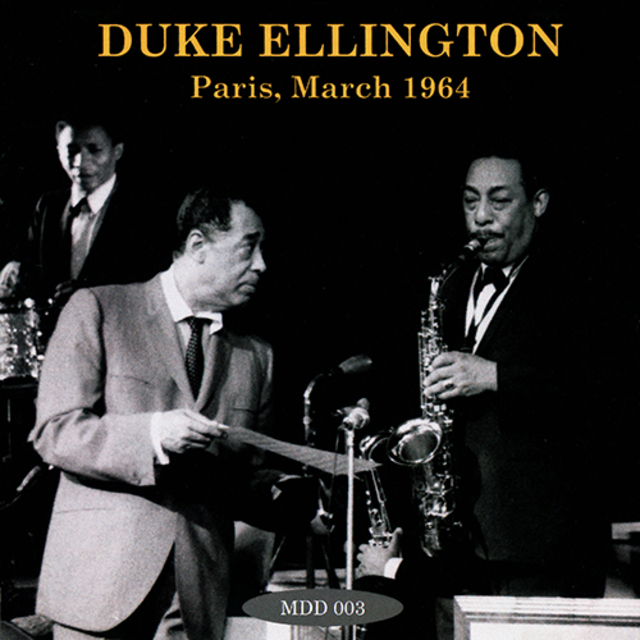 Artist:
Duke Ellington
Album:
Paris, March 1964
Genre:
Big Band
Label:
La Maison du Duke
Released:
2013
Quality:
FLAC (tracks+.cue)
Tracklist:
Take The ''A'' Train (1:30)
Amad (5:24)
Agra (2:27)
Bluebird Of Delhi (Minah) (3:32)
Depk (3:09)
The Opener (3:10)
Happy Reunion (3:54)
Blow By Blow (5:07)
Harmony In Harlem (1:37)
Stompy Jones (3:34)
Caravan (5:33)
Tutti For Cootie (Fade Up) (6:37)
Isfahan (5:02)
Things Ain't What They Use To Be (3:17)
Banquet (3:03)
Skillipoop (Jungle Triangle) (4:11)
Satin Doll (3:43)

La Maison du Duke is proud to present a collection of unpublished recordings of Duke Ellington, which come from an important stock of Ellington archives (Clavié collection), acquired by the association, which only a few collectors had access to today . The CDs are reserved for members of the Maison du Duke association and are not intended to be marketed.
La Maison du Duke est fière de vous présenter une collection d'enregistrements inédits de Duke Ellington, qui roviennent d'un important stock d'archives ellingtoniennes (collection Clavié), acquis par l'association, auquel seuls quelques collectionneurs avaient accès à ce jour. Tirés en très faible quantité, les CDs sont réservés aux membres de l'association la Maison du Duke et n'ont pas vocation à être commercialisés.
Ce troisième volume de notre collection d'enregistrements inédits éditée par la Maison du Duke est un témoignage extrêmement éloquent de la tournée européenne effectuée par le grand homme et son équipe en 1964. Après deux semaines passées au Royaume-Uni, du 15 février au 1er mars, l'orchestre abordait le continent le 2, à Stuttgart, pour le parcourir en tous sens jusqu'au 23, date du dernier concert à Limoges. Ajoutez à ce planning vertigineux le fait qu'il donnait souvent deux concerts par jour et que certains musiciens effectuaient parfois l'après-midi des séances d'enregistrement, et cherchez au fil des plages un quelconque signe de lassitude… A noter, entre autres merveilles, cinq extraits (plages 2 à 5 et 13) de ce qui deviendra en 1966 la Far East Suite, qu'on entendait pour la première fois.