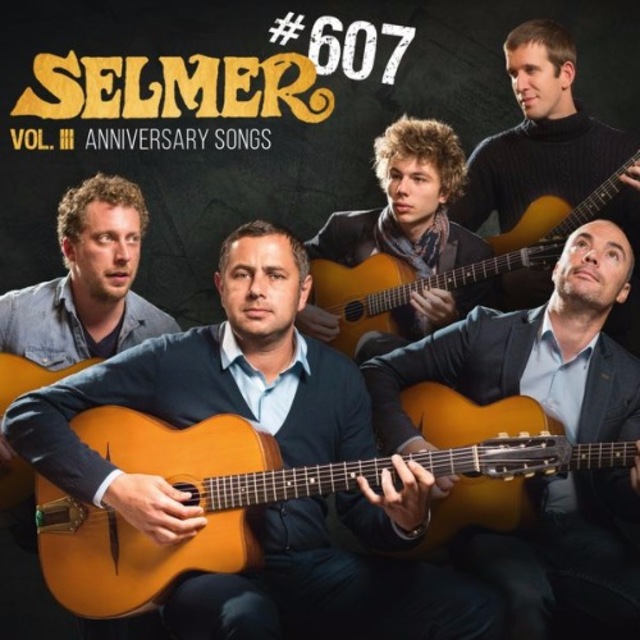 Artist:
Various
Album:
Selmer #607 - Anniversary Songs Vol. 3
Genre:
Gypsy Jazz, Manouche
Label:
Cristal Records/LDC Music
Released:
2017
Quality:
FLAC (tracks)
Tracklist:
Diminushing
Someday My Prince Will Come
Airegin
All the Things You Are
La bicyclette
Anniversary Song
Vamp
Mademoiselle
Forbach
Improvisation
Chante
Deserteur
Exploration, Pt. 3

Personnel:
Guitar soloists

Adrien Moignard (1, 5, 6, 9)
Rocky Gresset (2, 6, 8, 10)
Antoine Boyer (5, 6, 7, 13)
Sébastien Giniaux (3, 6, 12)
Noé Reinhardt (4, 6, 11)
Rhythm guitar
Ghali Hadefi (expect 10, 13)
David Gastine (1-4, 6, 9, 12)
Double bass
William Brunard (3, 4, 6, 9, 11)
Jérémie Arranger (1, 2, 8, 12)
After 2 albums in 2008 and 2010 (Crystal Records), the elite of the Gypsy Jazz guitar meets again around the mythic guitar Selmer #607, manufactured 70 years ago just, and identical to the model used by Django Reinhardt (who played on the Selmer #503).
The guitarists soloists Adrien Moignard, Sébastien Giniaux, Rocky Gresset and Noe Reinhardt welcome to this new edition, the young and talented Antoine Boyer, a rising star of the acoustic guitar jazz, and classical French.
The principle remains the same: the best guitarists in the style offer 2 to 3 titles with the same rhythm section (bass, 2 guitars), in the same recording studio, and on the same guitar Selmer, thus allowing appreciation of their uniqueness, their phrasing and a timbre unique to each.
And the result... A directory colored that goes from Django Reinhardt (of course!), Michel Fugain (Sings played by Noé Reinhardt) to Le Déserteur by Boris Vian (played of course by Sébastien Giniaux) and The Bicycle of Francis Lai (played by Antoine Boyer & Adrien Moignard). These standards are in addition to the original compositions, duets, and two chips in the guitar solo of Rocky Gresset and Antoine Boyer.
Anniversary Songs, it is a lot of freshness and sensitivity that will delight more than the aficionados of gypsy guitar virtuoso...