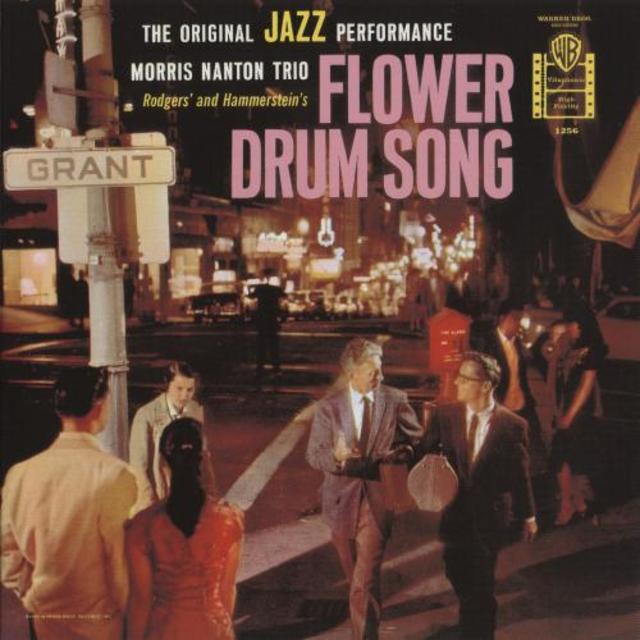 Artist:
Morris Nanton Trio
Album:
The Original Jazz Performance of Flower Drum Song
Genre:
Soul Jazz, Hard Bop
Label:
Warner Bros.
Released:
1958/2013
Quality:
FLAC (image+.cue)
Tracklist:
You Are Beautiful (Rodgers-Hammerstein) - 4:30
Sunday (Rodgers-Hammerstein) - 3:56
A Hundred Million Miracles (Rodgers-Hammerstein) - 3:58
Chop Suey (Rodgers-Hammerstein) - 3:04
I Am Going to Like It Here (Rodgers-Hammerstein) - 2:57
Love Look Away (Rodgers-Hammerstein) - 5:28
I Enjoy Being a Girl (Rodgers-Hammerstein) - 3:06
Grant Avenue (Rodgers-Hammerstein) - 4:02
Like a God (Rodgers-Hammerstein) - 5:09
DOWNLOAD FROM FILECAT.NET >>>
Personnel:

Morris Nanton - piano
Norman Edge - bass
Osie Johnson - drums
1943 was a banner year for the musical theater. For it was then that Rodgers and Hammerstein joined forces for the first time and wrote the memorable "Oklahoma." What happened after "Oklahoma" is history - and what a history it is! "Carousel", "South Pacific", "The King and I" were among the hits that followed, and now with "Flower Drum Song" add another triumph to the string of successes this team has contributed to the American musical scene.
"Flower Drum Song" is based on C. Y. Lee's novel of the same name and tells the story of a mix-up between a mail order bride from China who comes to San Francisco only to find that she and a brassy strip-teaser from San Francisco's Chinatown are about to marry the same fellow. This causes an uproar in the "family association" which leads to a wonderful tug-of-war between the older generation and the younger - Old China and the New China of San Francisco. But underneath all this is a lovely story of two young people whose love defies conventions and the unbelievable strength of the older generation's refusal to accept the western customs by which they live. On this story Mr. Rodgers has draped one of his most beautiful scores; a score that is not only well endowed with melody but one that is filled with wit, pathos and vigor as well.
With this new score by Richard Rodgers, Warner Bros. is proud to introduce a new and extremely gifted pianist, Morris Nanton. Morris, who has just turned 27, has been a jazz fan as long as he can remember. As his interest for jazz grew, feeling his musical knowledge should be expanded he entered the Julliard School of Music, where he studied for four years with Irwin Freundlich. After Julliard came the army where he was unusually active as a jazz pianist, playing concerts frequently and jamming with fellow soldiers almost nightly. Following his two year army hitch, Morris returned to civilian life as a sort of "jazz pianist in residence" at a roadside club named Espose in Woodbridge, New Jersey, where he has been playing for the past 2.5 years.
Morris Nanton is a gifted musician with a natural sense of rhythm, imagination, and a unique expressive quality. After you have heard this record we are sure you will agree that Morris Nanton is well on the way to becoming a major force in the world of jazz, but more than that, he has the ability to please those who know nothing at all of jazz. He is accompanied by Norman Edge on bass and Osie Johnson on drums.