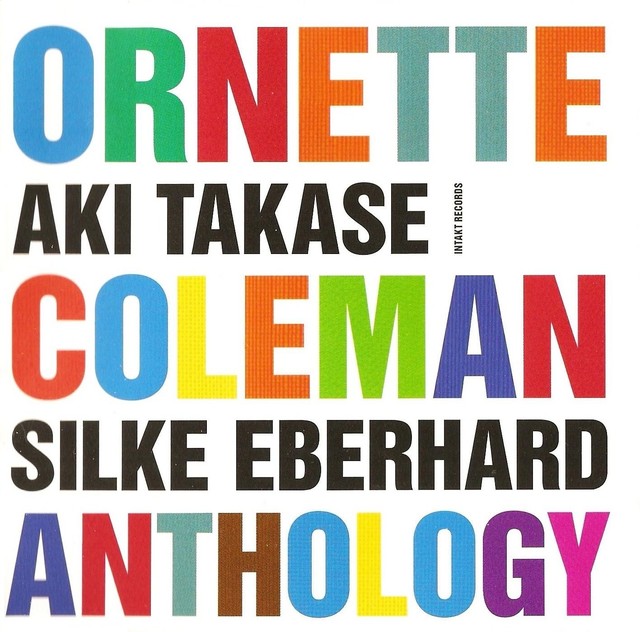 Artist:
Aki Takase & Silke Eberhard
Album:
Ornette Coleman Anthology
Genre:
Free Jazz, Avant-Garde Jazz
Label:
Intakt Records
Released:
2006
Quality:
FLAC (tracks+.cue)
Tracklist:
CD 1:



Turnaround 5:30
Lonely Woman 4:25
Free 1:52
The Blessing 4:04
Folk Tale 3:16
Open To The Public - Check Out Time 2:15
Cross Breeding 1:32
The Sphinx 5:37
Dedicated To OC-Doughnut 2:33
Revolving Door 3:04
Mr. And Mrs. People 3:42
Angel Voice 3:09
Motive For Its Use 2:35
The Disguise 3:48
Change Of The Century 2:36
Focus On Sanity 7:28
CD 2:



Congeniality 3:23
Airborne 3:08
Broadway Blues 4:19
Beauty Is A Rare Thing 3:14
Face Of The Bass 7:22
Peace 4:55
Little Symphony 3:29
Eventually 1:13
Humpty Dumpty 3:27
Eos 1:11
W.R.U. 5:15
Check Up - Enfant 1:58
I Heard It Over The Radio 7:23
Round Trip 1:24
Music Always 2:38
Love Call 2:50
Una Muy Bonita 5:49

Wonderful, impressive, exciting, almost odd, and in any case fascinating: two women play Ornette Coleman tunes in a duo with reeds and piano, and beyond that with selections from the phase when the jazz innovator consciously left piano out of his groups. Aki Takase, the Grande Dame of jazz piano based in the tradition but open to freedom, meets the young saxophonist Silke Eberhard, who has made a name for herself with her own bands. They play early Ornette Coleman tunes.
And it's soon clear: they're addictive. It's not just that they're catchy.
They're only simple when considered superficially; they can trigger the highest levels of complexity.
They are provocative, inciting total freedom, but always with shape and form.
What can be heard on the two duo CDs is not only a Coleman anthology but also an encyclopedia of approaches to his melodies.
Every conceivable manner of arranging and improvising is explored here – melodic, harmonic, rhythmic, sonic.