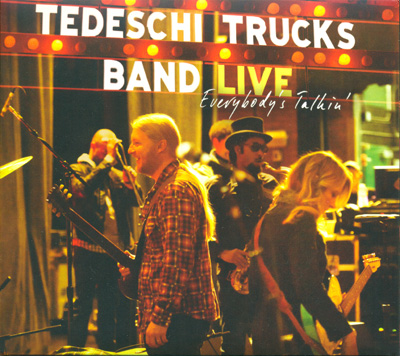 Artist:
Tedeschi Trucks Band
Album:
Everybody's Talkin' (Live)
Genre:
Blues Rock
Label:
Sony Music Entertament
Released:
2012
Quality:
FLAC (image+.cue)
Tracklist:
CD 1:



Everybody's Talkin' - 5:31
Midnight In Harlem (Swamp Raga Intro With Little Martha) - 10:23
Learn How To Live - 9:27
Bound For Glory - 12:53
Rollin' And Tumblin - 4:42
Nobody's Free - 10:25
Darling Be Home Soon - 10:05
CD 2:



That Did It - 7:59
Uptight - 15:32
Love Has Something Else To Say (With Kissing My Love) - 11:06
Wade In The Water - 8:25
DOWNLOAD FROM FILECAT.NET >>>
The Tedeschi Trucks Band is an 11-piece ensemble made up of guitarist-vocalist Susan Tedeschi's and guitarist Derek Trucks' individual bands. They made their debut with 2011's Grammy-winning Revelator, a sprawling collection that showcased funky R&B, gospel, blues, and scorching large band rock. Everybody's Talkin', a double disc, is a live offering from that supporting tour. Produced by Trucks, it includes live versions of some album tracks and six beautifully chosen covers; all its tunes are given extended, imaginatively arranged treatments. It's an unusual live record because its balance of sonic precision and stage-born kinetics is perfect -- this band transitions seamlessly between R&B, blues, rock, gospel, and jazz. These performances never succumb to mere jam band clichés. On disc one, "Midnight in Harlem" is introduced by a mini raga played as a slide solo by Trucks. The band enters gradually, and Tedeschi's soulful vocal carries them all the way in. (Tedeschi is revealed, song after song -- far beyond her solo records or even Revelator -- to be among the truly great singers in modern blues and rock; by turns graceful and grainy, her expression reaches the spiritual in execution.) At over 11 minutes, the interplay between guitarists, Mike Mattison's backing vocals, keyboards, and rhythm section are impeccable. Things get rowdier on "Learn How to Love," with nasty guitar work by Tedeschi, and a burning tenor sax solo by Kebbi Williams. The horn section really pops in "Bound for Glory"; the exchange between the Burbridge brothers on bass and keys, with drummers Tyler Greenwell and J.J. Johnson, adds a knotty improv bridge where deep funk and blues grind together. The disc closes with an astonishing reading of John Sebastian's "Darlin" Be Home Soon." With horns tastefully accenting and underscoring lead vocals, Trucks' slide solo stays melodically true, yet moves through the band's shimmering groove into the stratosphere (and he does this throughout this album, over and over again, helping to elevate not only the tune, but the sense of groove, space, and texture). Disc two contains only four cuts but they're all gems: Pearl Woods' "That Did It" (a Bobby "Blue" Bland vehicle) is a down and gritty strut, with excellent, in-the-grain guitar work by Tedeschi. Stevie Wonder's "Uptight" is a 15-minute soul rave-up with a beautiful jazz interlude and scat singing from Oteil Burbridge in its middle, followed by a wonderfully imagined slide solo by Trucks. It's followed by the deep, horn-driven, wah-wah funk of "Love Has Something Else to Say" before closing with a stirring read of "Wade in the Water." It's a spooky gospel-blues with gorgeous alternate lead vocals by Mark Rivers and Tedeschi. Everybody's Talkin' is what every live album should be: an accurate, exciting reflection of a hot band playing full-throttle.
Review by Thom Jurek