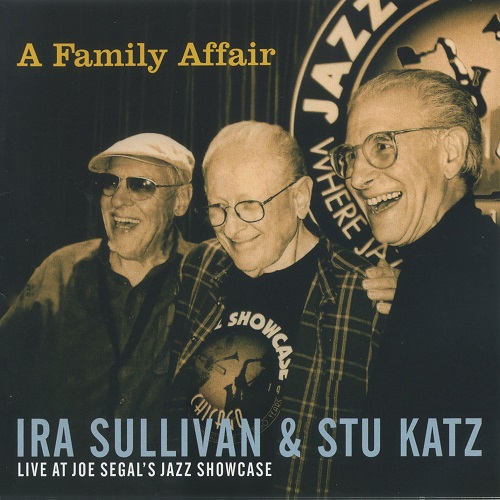 Artist:
Ira Sullivan & Stu Katz
Album:
A Family Affair: Live At Joe Segal's Jazz Showcase
Genre:
Straight-Ahead, Mainstream Jazz
Label:
Origin Records
Released:
2011
Quality:
FLAC (tracks)
Tracklist:
Blues Two Views (Ira Sullivan) 07:53
Gee, Matthew (Ira Sullivan) 11:41
Pennies From Heaven (John Burke / Arthur Johnston) 09:08
Scrapple From The Apple (Charlie Parker) 07:00
Lullaby Of The Leaves (Bernice Petkere / Joy Young) 09:03
Yesterdays (Otto Harbach / Jerome Kern) 07:45
Take The «A» Train (Billy Strayhorn) 09:31
Stablemates (Benny Golson) 06:54
What A Friend We Have In Jesus (Charles C. Converse) 01:43
DOWNLOAD FROM FILECAT.NET >>>
Personnel:

Ira Sullivan - tenor, alto, soprano saxophones, trumpet, flugelhorn
Stu Katz - vibraphone, piano (# 03)
Dan Trudell - piano
Dennis Carroll - acoustic bass
Steve Katz - acoustic bass (# 07)
George Fludas - drums
Lucia Newell - vocal (# 06)
Multi-instrumentalist Ira Sullivan spent a good while working around Chicago before leaving for Florida in the early '60s, though he retained a significant fan base in his old hometown. This live recording made in 2010 over four nights at Joe Segal's Jazz Showcase is a reunion, featuring vibraphonist Stu Katz, who while in his teens had regularly sat in with Sullivan over a half-century earlier before pursuing a law career. Joining them in the rhythm section are pianist Dan Trudell, bassist Dennis Carroll, and drummer George Fludas, the latter two who have played often with Sullivan for years. Starting off with a bluesy hard bop original, "Blues Two Views," the leader offers some sinewy muted trumpet, followed by strong features for Katz and Trudell before the leader returns with a vibrato-filled tenor solo. Sullivan switches to alto sax for an expressive, offbeat take of "Pennies from Heaven" (in which Katz switches to piano) and plays soprano sax with equal authority in a moody rendition of "Lullaby of the Leaves" and a driving "Yesterdays" (the latter featuring vocalist Lucia Newell's buoyant scat solo). Stu's son Steve takes over on bass for a breezy run-through of "Take the 'A' Train," with the vibist shining in the lead before Sullivan makes his explosive entrance on tenor. The attentive audience obviously enjoyed the reunion as much as the players on-stage, yet another fine example of memorable music documented at the longtime Chicago nightspot.
Ken Dryden