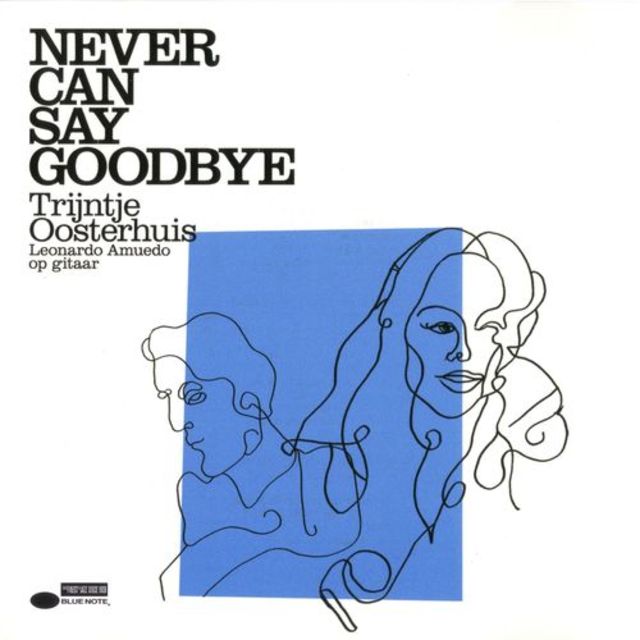 Artist:
Trijntje Oosterhuis & Leonardo Amuedo
Album:
Never Can Say Goodbye
Genre:
Vocal Jazz
Label:
Blue Note
Released:
2009
Quality:
FLAC (tracks+.cue)
Tracklist:
Never Can Say Goodbye (3:33)
Baby Be Mine (4:43)
Music & Me (3:31)
Lady in My Life (4:30)
I Want You Back (2:42)
One Day in Your Life (4:01)
I Just Can't Stop Loving You (4:39)
Don't Stop Till You Get Enough/Working Day & Night/Wanna Be Startin' Somethin' (5:34)
Can't Help It (4:56)
Rock with You (4:05)
Human Nature (4:29)
Gone Too Soon (3:23)
I'll Be There (feat. Keith John) (4:50)
You Were There (tribute to Sammy Davis Jr.) (7:19)
DOWNLOAD FROM FILECAT.NET >>>
Personnel:

Trijntje Oosterhuis - lead vocals, backing vocals
Keith John - backing vocals
Leonardo Amuedo - guitars
Candy Dulfer - saxophone
Following the untimely death of Michael Jackson in 2009, it seemed inevitable that a whole host of star artists would pay their respects to the King of Pop on record. However, rumors of tribute albums from Ne-Yo and a star-studded compilation featuring Beyoncé and Mariah Carey never came to fruition, while the only notable Jacko dedications have appeared courtesy of the rather lesser-known reggae vocalist Clinark, U.S. pianist Bob Baldwin and London gospel choir Joyous Voices. Joining that surprisingly small list is Dutch jazz-soul singer Trijntje Oosterhuis, who was just out of the blocks, with this 15-track collection, Never Can Say Goodbye, released just six months after that fateful day in late June. While the former Total Touch frontwoman may lack the star power of her American counterparts, she certainly doesn't lack the ability to respectfully interpret other artists' work, having previously released tasteful and subtle cover albums based on songs by Stevie Wonder, Billie Holiday, and Burt Bacharach. Indeed, any worries that this would be a rushed, karaoke, bandwagon-jumping affair are quashed immediately by the opening title track, which retains the melancholy of the Jackson 5 original while also adding her own understated acoustic spin. Largely backed by just Leonardo Amuedo's guitar with the occasional flashes of saxophone from Dutch maestro Candy Dulfer, it's a formula she wisely sticks to throughout, whether tackling the joyous disco-pop of the Jackson 5's first number one, "I Want You Back," the power ballad of Bad lead single "I Just Can't Stop Loving You," or a medley of three of his most infectious dancefloor favorites ( "Don't Stop Til You Get Enough"/"Working Day & Night"/ "Wanna Be Startin' Something"). Having supported Jackson on the Dutch leg of his History tour in 1997, life-long fan Oosterhuis has a stronger association than skeptics might think, something which is evident in the list of song choices, which apart from a few big hitters, concentrates on some of his lesser-known material. Alongside a beautifully restrained take on Dangerous' flop single "Gone Too Soon," performed by Usher at Jackson's funeral, there are also interpretations of the closing title track from his 1973 third solo album, "Music and Me," his cover version of Charlie Chaplin's "Smile," and "You Were There," the track he penned specially for Sammy Davis, Jr.'s 60th Anniversary Show in 1990. Never Can Say Goodbye could have been a contrived and rather cynical cash-in, but thanks to Oosterhuis' genuine fondness for the source material and its classy stripped-back arrangements, it's an affectionate and emotive celebration of some of Jackson's finest work.
Review by Jon O'Brien