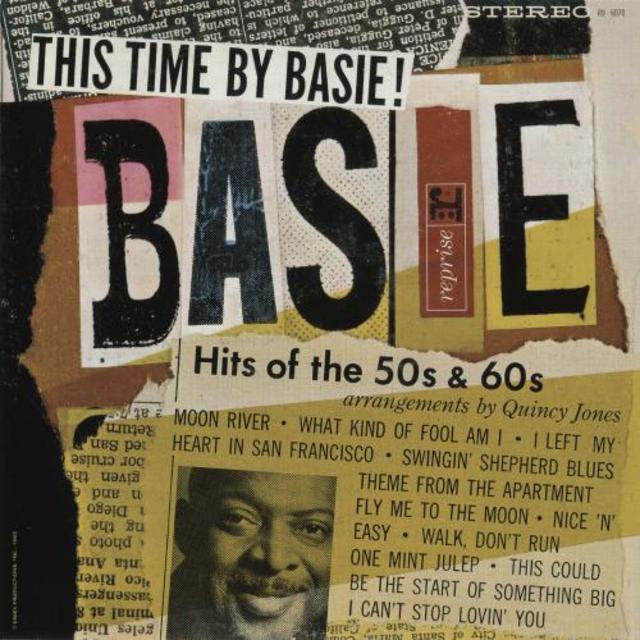 Artist:
Count Basie and His Orchestra
Album:
This Time by Basie: Hits of the 50's & 60's!
Genre:
Big Band, Swing
Label:
Reprise/WEA/Warner
Released:
2012
Quality:
FLAC (image+.cue)
Tracklist:
This Could Be the Start of Something Big (Allen) - 3:18
I Left My Heart in San Francisco (Cory-Cross) - 2:32
One Mint Julep (Toombs) - 4:01
The Swingin' Shepherd Blues (Koffman) - 3:15
I Can't Stop Loving You (Gibson) - 4:35
Moon River (Mancini-Mercer) - 3:09
Fly Me to the Moon (Howard) - 3:14
What Kind of Fool Am I? (Newley-Bricusse) - 2:49
Walk, Don't Run (Smith) - 2:38
Nice 'n' Easy (Spence-Bergman-Bergman) - 3:16
Theme from "The Apartment" (Deutsch) - 3:17
DOWNLOAD FROM FILECAT.NET >>>
Personnel:

Count Basie - piano
Sonny Cohn, Albert Aarons, Thad Jones, F.P. Ricard, Edward Preston - trumpets
Henry Coker, Benny Powell, Urbie Green, Grover Mitchell - trombones
Marshall Royal - alto saxophone, clarinet
Frank Foster - tenor saxophone, clarinet
Eric Dixon, Frank Wess - tenor saxophone, flute
Charlie Fowlkes - baritone saxophone, bass clarinet, flute
Freddie Green - guitar
Buddy Catlett - bass
Sonny Payne - drums
Three decades after the fact, people looking at releases like This Time by Basie would tend to dismiss it as pandering, Count Basie doing a "pops"-type outing -- the cheesy cover art even emphasized the songs over Basie and his band. Nothing could be further from the truth, however -- this 16-song release reveals a wonderful body of work, and deserves to be better known. For starters, This Time by Basie swings, smooth and easy but taut, or hot and heavy. From Sonny Payne's understated cymbal intro to "This Could Be the Start of Something Big" to the bluesier notes of "One Mint Julep," Basie and company sound like they're enjoying themselves, whether elegantly stretching out on "I Left My Heart in San Francisco" or "Moon River," or soaring into the air on the hotter numbers -- one of the more surprising covers here is "Walk Don't Run," which even works in a big-band arrangement. Highlights amid all of this surprising splendor include Marshall Royal's alto sax on "What Kind of Fool Am I" and Frank Foster's tenor sax on "Something Big." Quincy Jones arranged and conducted This Time by Basie, and the record was successful, returning the Count to the pop charts on the eve of the British Invasion. The last five songs here are drawn from Pop Goes the Basie, a 1965 album arranged and conducted by Billy Byers, and produced by Teddy Reig -- the playing is as good as the companion work on numbers like "The Hucklebuck." Their version of Roy Orbison's "Oh, Pretty Woman" is a big-band blues rendition of the song (sung by Leon Thomas) that buries the original's grand operatic romantic sensibilities in a posed soulfulness. "Oh Soul Mio" (highlight by Al Grey's trombone work), "Shangri-La" and "At Long Last Love" (both prominently featuring Eddie "Lockjaw" Davis) come off better -- the last number could've come off of any of Basie's best post-1951 albums. The remixing from the original three-track studio masters has yielded an especially clean sound with vivid stereo separation, enhancing the solos (check out Davis' on "At Long Last Love") and the overall ensemble.
Review by Bruce Eder