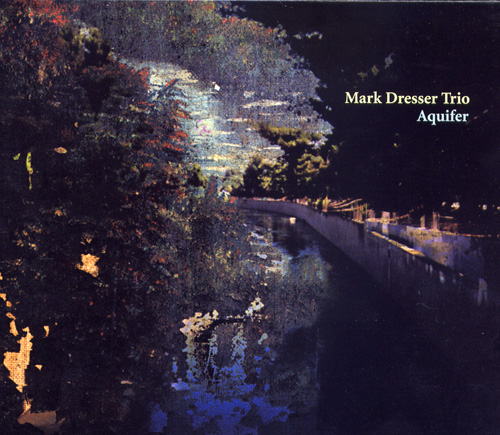 Artist:
Mark Dresser Trio
Album:
Aquifer
Genre:
Avant-Garde / Free Improvisation
Label:
Cryptogramophone
Released:
2002
Quality:
FLAC (image+.cue)
Tracklist:
FLBP
Digestivo
Threaded-Spin X
For Bradford

Sonomatopoeia
Pulse Field
Aquifer
Flac
Modern Pine

Personnel:

Mark Dresser - contrabass, giffus
Matthias Ziegler - electro-acoustic flutes (contrabass, bass, alto, soprano & piccolo)
Denman Maroney - hiperpiano
As a composer Mark Dresser walks no lines; he enters and exits the musical body without regard for boundaries or conventions imposed from outside his musical view. As a soloist, improviser, and bandleader, Dresser is well-known for turning the musical tract inside out in order to get what he needs from his instrument, his ensemble, or a particular piece of music. On Aquifer, his second album as a leader for the now-venerable Cryptogramphone label, Dresser uses the title as a veil-lifting exercise on what it is this ensemble does with music. They act as the ground from which all force is created. They are unchanging and look at everything with equanimity, yet, based on the dictates of a particular composition or interaction, cause chain reactions of force, silence, ebb, and flow with each movement or consideration. Here with Mathias Ziegler, with the entire family of flutes played electroacoustically and the hyper piano of Denman Maroney, the ensemble charts more unknown, perhaps unknowable territory while keeping their focus on the axis of purely musical expression.
That musical expression finds its means of erudition in the array of sounds this trio is capable of dredging out of the creative heart. Where the jazz and blues of Horace Silver are tracked via Jaki Byard on "Digestivo," so are serial components à la Alban Berg. "Digestivo" and "Modern Pine," which closes the album, have been performed quite extensively by Dresser with Mark Helias, but the textured sounds of the flutes and the angular piano of Maroney create a depth and dimension that the originals didn't touch. Ideas here, in both structure and improvisation, don't drone or breathe; they all have edges and move through their chosen frameworks with deceptive ease. The abstracted soundscapes on "Sonomatopoeia" give way effortlessly toward poetically inspired compositional sketches that are precise and expansive having integrated the sonic palette. Where improvisation is called for in order to reveal the invisible foundations of a particular musical notion, as on the title track, it sidles the premise of an integral, interchangeable sonic and sonant amalgam of cooperative sound exchanges that shore the idea while making its utterances so vast they are almost unspeakable. Mark Dresser hasn't missed in his quest to integrate all the values of sound and music creation into a refracted, prismatic whole, and the Aquifer trio is a band whose potentials have merely been tapped here.
Review by Thom Jurek