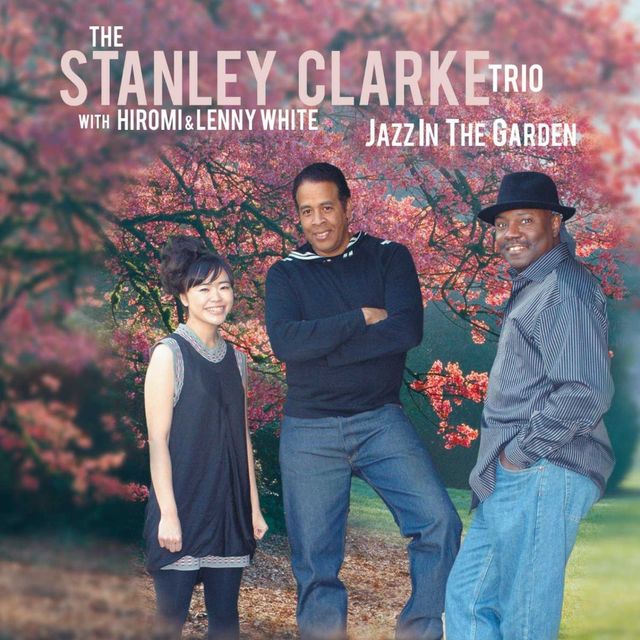 Artist:
The Stanley Clarke Trio
Album:
Jazz In The Garden
Genre:
Jazz Fusion
Label:
Heads Up International
Released:
2009
Quality:
FLAC (tracks+.cue)
Tracklist:
Paradigm Shift (Clarke) 7:43
Sakura Sakura (Traditional ) 5:33
Sicilian Blue (Uehara ) 4:48
Take the Coltrane (Ellington ) 3:30
Wrong Notes (Clarke) 5:47
Someday My Prince Will Come (Churchill, Morey ) 4:56
Isotope (Henderson ) 5:27
Bass Folk Song No. 5&6 (Clarke ) 4:02
Global Tweak (Clarke, Uehara ) 3:43
Solar (Davis ) 5:14
Brain Training (Uehara ) 4:52
Under the Bridge (Balzary, Frusciante, Kiedis ...) 5:32

After the 2008 Return to Forever reunion, Chick Corea formed an electric band with John McLaughlin, and Stanley Clarke put together this well heeled acoustic trio with Lenny White and Hiromi Uehara. The result was spectacular on both ends, but here Clarke and friends really get to the heart of contemporary jazz with a program of standards, originals from the bandmembers, and a focus on Clarke with his full, upright bass that had not heretofore been so pronounced since his early days. The trio sounds great and play to their strengths no matter what modern style they tackle. Uehara is very much into this music emotionally, and White does his usual yeoman job of creating taut rhythmic structures without getting in the way or grandstanding. Clarke's fingerpopping electric bass guitar work is put aside for a slight vibrato style that sets him apart, and keeps his estimable virtuoso reputation intact. Clarke and Uehara contribute compositions that exude not even a hint of nostalgia for the old, good days of jazz-rock fusion, but instead are seated firmly in new, soulful, contemporary ideas that flow and are not all that concerned with pyrotechnics. Their tribute to President Barack Obama on "Paradigm Shift (Election Day 2008)" musically reflects a long campaign with a quirky, bouncy, ultra rhythmic prologue leading to a modal, peaceful, and satisfying outcome. "3 Wrong Notes" strikes an accord with Chick Corea like cool turnarounds in a straight bop framework. "Global Tweak" streams Clarke's bass and Uehara's piano into laid-back sounds merging into playful highway cruising. Where lessons learned via Thelonious Monk crop up during the spiky, impish "Brain Training" and Joe Henderson's "Isotope," they settle into a comfort zone, especially the pianist, who continues to surprise with her mainstream jazz literacy on the straitlaced, no-frills version of "Solar." They are perfectly capable of effectively melding their cultures on the beautifully rendered "Sakura Sakura," mixing and matching traditional Japanese folk music and art with low-key drama in a progressive 6/8 mode. The key to this music is not only their collective ability to set up a theme and develop it on every selection, but to completely avoid clichés and identifiers that pigeonhole their personalized sounds. A collective and democratic group in every sense, they also go beyond what most seasoned piano-bass-drums trios accomplish playing standards, instead inventing their own language with fresh, original new music no matter the source. They do pull out old chestnuts like the aforementioned standards, but when you hear Clarke's lead lines and extrapolations during "Take the Coltrane" or his updated "Bass Folk Song No. 5 & 6," you understand these are musicians not resting on laurels or past glories. When high caliber players -- in the truest sense -- convene and transcend the styles they were associated with in the past, that is the basis for making great music. In this regard, Clarke, Uehara, and White have collectively succeeded on all creative levels, and deserve every ounce of your attention on this recording that is extraordinary from start to finish.
Review by Michael G. Nastos