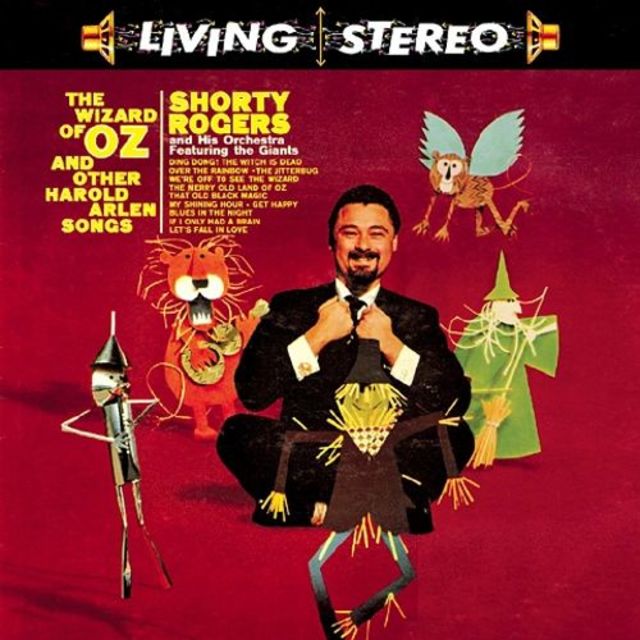 Artist:
Shorty Rogers and His Orchestra feat. The Giants
Album:
The Wizard of Oz & Other Harold Arlen Songs
Genre:
Big Band, Cool
Label:
DRG Records
Released:
1959/2005
Quality:
FLAC (tracks+.cue)
Tracklist:
We're Off to See the Wizard (Arlen-Harburg) - 1:20
Over the Rainbow (Arlen-Harburg) - 3:01
The Jitterbug (Arlen-Harburg) - 3:17
The Merry Old Land of Oz (Arlen-Harburg) - 5:35
If I Only Had a Brain (Arlen-Harburg) - 3:28
Ding Dong! The Witch Is Dead (Arlen-Harburg) - 3:32
My Shining Hour (Arlen-Harburg) - 3:36
Get Happy (Arlen-Koehler) - 2:44
Blues in the Night (Arlen-Mercer) - 5:48
Let's Fall in Love (Arlen-Koehler) - 3:17
That Old Black Magic (Arlen-Mercer) - 5:25
DOWNLOAD FROM FILECAT.NET >>>
Personnel:

Shorty Rogers - trumpet, flugelhorn, arranger
Pete Candoli, Buddy Childers, Don Fagerquist, Ollie Mitchell, Al Porcino, Ray Triscari - trumpet
Harry Betts, Marshall Cram, Frank Rosolino - trombone
Bob Enevoldsen - valve trombone
Jimmy Giuffre - clarinet
Herb Geller - alto saxophone, tenor saxophone
Bud Shank - alto saxophone

Bill Holman - tenor saxophone
Chuck Gentry - baritone saxophone
Larry Bunker - vibraphone

Barney Kessel - guitar
Pete Jolly - piano
Joe Mondragon - bass
Mel Lewis - drums
All of trumpeter/arranger Shorty Rogers' recordings from the 1950s (which were quite influential on both arrangers and cool-toned soloists) are well worth searching for. Unfortunately, many are out of print, including half of this excellent LP; the second side has been reissued on the Bluebird CD Swings. On the first side, Rogers and his Orchestra (which includes such fine soloists as Jimmy Giuffre on clarinet and tenor, valve trombonist Bob Enevoldsen, altoists Bud Shank and Herb Geller, guitarist Barney Kessel and pianist Pete Jolly) perform five familiar songs from Oz, plus "The Jitterbug," which did not make it into the final cut. This date is rounded out by fresh versions of five of Arlen's most famous songs, including "Get Happy," "Blues In the Night" and "That Old Black Magic." Wonderful music.
Review by Scott Yanow