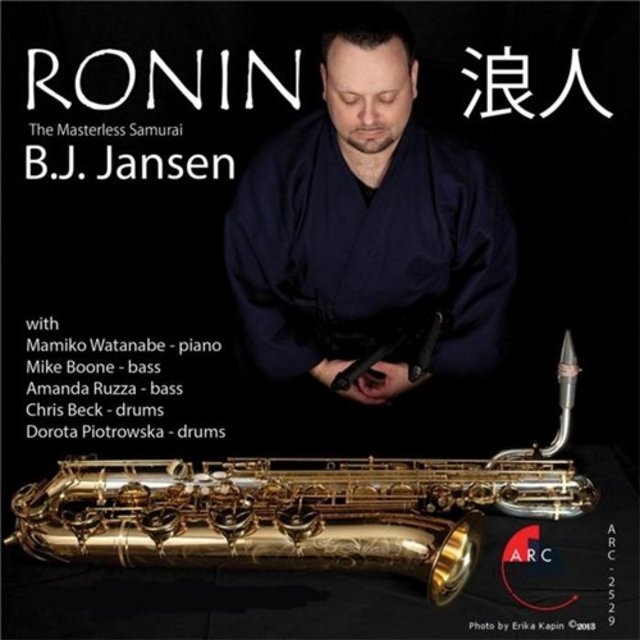 Artist:
B.J. Jansen
Album:
Ronin, the Masterless Samurai
Genre:
Straight-Ahead Jazz, Mainstream Jazz
Label:
Artists Recording Collective
Released:
2014
Quality:
FLAC (tracks+.cue)
Tracklist:
Ronin
Rose for Noriko
Best Fiend
The Cost
Blues for C.P.
Manhattan Trane'in
Brother Sid
Diamonds for Lil
The Code
DOWNLOAD FROM FILECAT.NET >>>
Personnel:

B.J. Jansen - baritone saxophone, compositions
Mamiko Watanabe - piano
Mike Boone - bass
Chris Beck - drums
Amanda Ruzza - bass (4)
Dorota Piotrowska - drums (4)
Baritone saxophonist B.J. Jansen demonstrates his versatility as a composer and performer on Ronin, his third release as a leader. The nine originals that comprise the album cover a gamut of styles while remaining firmly in the jazz mainstream.
On the boppish "Manhattan Trane'in" for instance Jansen wields his horn with agility as he intricately embellishes the melody and deftly navigates its harmonic structure. "Diamonds for Lil," meanwhile, showcases his subtle and emotive balladry as his thick smooth tone shimmers with romanticism while completely eschewing syrupiness. Elsewhere, on the mellifluous "Blues For C.P." his buttery saxophone weaves, hearty sonic threads over this band mates' earthy groove. Bassist Mike Boone both anchors the loosely swinging rhythms and takes center stage with an intelligent, conversational improvisation, another highlight of this ardent tune.
Boone exhibits an intriguing dexterity as he lays down crisp and clever spontaneous twists and turns on the theme of "Best Fiend." The slow simmering piece also features Jansen's meandering baritone and pianist Mamiko Watanabe's soulful edgy ad-lib phrases.
Watanabe's unique virtuosity incorporates a wide array of expressions as she goes from cool, cascade of individual notes on the title track to reserved yet exciting percussive chords on "The Cost." The former has vaguely Asian hints, features drummer Chris Beck's rumbling and exuberant solo and closes with stimulating and pensive group play. The latter finds Jansen and Watanabe in the company of two different side musicians, the bassist Amanda Ruzza and drummer Dorota Piotrowska. Ruzza exhibits her characteristic charm and lyricism as she adroitly keeps pace with Piotrowska's fiery and explosive polyrhythms and Jansen's visceral and energetic extemporization.
Although not terribly innovative or groundbreaking Ronin, nevertheless, is quite an enjoyable and delightful record. Jansen has created an engaging work with his catchy motifs, his absorbing playing and his skillful leadership. (Hrayr Attarian, AllAboutJazz)
During the feudal period in Japan (1185-1868), a Ronin was a samurai (knight) with no lord or master. A samurai could become masterless from the death or political fall of his master, or simply by the loss of his master's favor. Ronin amassed during periods of long peace when their warrior training was not needed. Some Lords released samurai for strictly financial reasons during these periods. By law a Samurai was forbidden to have a job, so many fell into poverty and lives of crime to feed themselves and their families. Others, simply disgraced committed suicide.