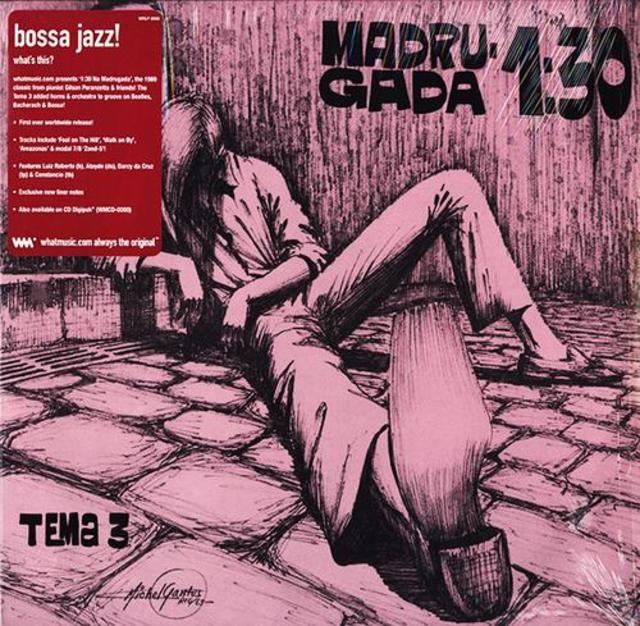 Artist:
Tema 3
Album:
Madrugada 1:30
Genre:
Bossa Nova
Label:
Whatmusic.com
Released:
1969/2002
Quality:
FLAC (tracks+.cue)
Tracklist:
Andanca (2:55)
Grao de Cafe (2:29)
Walk on By (2:36)
Ela Vem de Volta (2:14)
Sabia (3:16)
Zond-5 (1:40)
The Fool on the Hill (2:59)
Samarina (2:02)
Manha Branca (2:50)
Afro (2:21)
Amazonas (2:32)
Watch What Happens (3:15)
DOWNLOAD FROM FILECAT.NET >>>
Personnel:

Gilson Peranz - piano

Luiz Roberto - bass

Atayde - drums
Alberto Arantes - guitar
Tema 3 is basically a classic jazz bossa trio: piano + bass + drum kit; very popular in the late 1950's and up to somewhere in the mid '60's, but not as much anymore in 1969, when this album was cut.
So, for about half of the LP, they added something extra to please the target audience of bachelors drinking whiskies "in the wee small hours" as the original liner notes describe. Tema 3 added 2 extra's actually: one being covers of the international hits "Walk On By, "Watch What Happens" and "The Fool On The Hill"; the other being a modern brass & woodwinds orchestra on half of the tracks.
Although the trio can create a pretty impressive groove and irresistible rhythm on their own, I personally prefer the orchestrated tunes, starting with the lounge bossa's of "Andança" and "Walk On By" with their beautiful melancholic melody played by velvet brass and flutes. The latter adds a sophisticated fun element by means of a trumpet that plays a couple of times just one, high accented note, sounding not unlike a Moog, of all instrumets! I don't know if this was actually meant to be funny...
The same goes for "Zond-5", played by the trio whith an unusual 7/8 time signature, that I find extremely amusing: the beat leads to irresistible foot tapping, yet it's nearly impossible to follow (the same effect you get with "Take 5", that classic of all odd time signatures.)
Speaking of time signatures: their unique version of "The Fool On The Hill" with its inspired rhythm changes, turns this rather sleepy Beatles tune into a highly dynamic jazz bossa! Another favorite is an Afro-bossa with hypnotising Afro-percussion.
All in all lots of variation, more than on most bossa nova/ samba albums!
by Johan Dada Vis