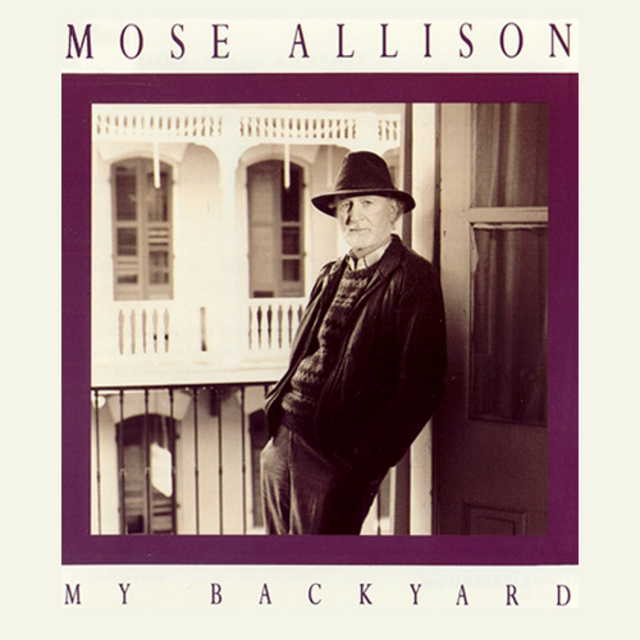 Artist:
Mose Allison
Album:
My Backyard
Genre:
Hard Bop, Piano Blues
Label:
Blue Note
Released:
1990
Quality:
FLAC (tracks+.cue)
Tracklist:
Ever Since I Stole The Blues (3:15)
You Call It Joggin' (2:58)
Big Brother (4:19)
Sentimental (3:26)
Stranger In My Own Hometown (3:46)
Was (4:13)
The Gettin' Paid Waltz (4:14)
Dr. Jekyll & Mr. Hyde (3:05)
That's Your Red Wagon (3:33)
Long Song (3:52)
Sleepy Lagoon (3:27)
My Backyard (3:38)

Personnel:

Vocals Mose Allison - p, vo
Tony Dagradi - ts
Steve Masakowski - g
Bill Huntington - b
Johnny Vidacovich - d
Mose Allison's career in his golden and quite fruitful years has yielded many surprises and challenges, not the least of which is this delightful offering. He continues to write attractive, bouncy, and fun tunes carried by his signature roiling piano style and sly lyrics. For this effort, producer and Allison disciple Ben Sidran hooked him up with musicians from the modern New Orleans jazz scene, including Astral Project members -- the extraordinary drummer John Vidacovich, tenor saxophonist Tony Dagradi, and guitarist Steve Masakowski. Veteran bassist Bill Huntington rounds out this very talented ensemble that happily works with Allison step by step to produce some of the singer/songwriter/instrumentalist's most enjoyable music, a tall order but easily recognizable once the listening commences. John D. Loudermilk's "You Call It Joggin'," with the retort "but I call it runnin' around," is one of the all-time classic skeptical lyric lines, as applicable to contemporary lifestyles as anything in the urban lexicon. His revisit of "That's Your Red Wagon" is another timeless tale of emotional baggage; Percy Mayfield's "Stranger In My Own Hometown" is purely autobiographical; while "Sleepy Lagoon" is an easygoing, romantic fantasy theme. Of the eight Allison originals, "The Getting Paid Waltz" depicts every musician's nightmare playing in a nightclub, impatiently waiting for the cheapskate owner eventually to pay up. "Was" is a light waltz for has-beens; "Sentimental Fool" talks about the paradox that he "messed around and got humanized"; and the New Orleans shuffle "Big Brother" -- including smart tradeoffs with Dagradi -- is a post-technology cautionary tale, even more relevant in modern times with the advent of Skype, Twitter, and Facebook. A statement on the music industry and jazz in particular, the slinky "Long Song" delineates in four minutes what need and not need be present in popular commercial or creative progressive music, and is a perfect companion to his song "My Top 40 Hit Record." Allison is always a delight to hear, a consistently marvelous piano player, and in very good company with this expert band that suits his style and personality perfectly. My Backyard is one of the best records of his career.
Review by Michael G. Nastos