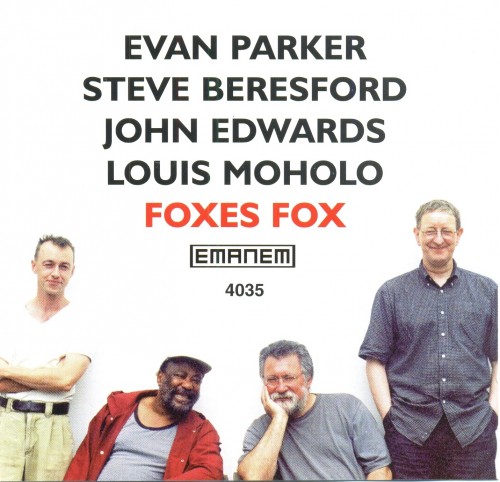 Artist:
Evan Parker, Steve Beresford, John Edwards, Louis Moholo
Album:
Foxes Fox
Genre:
Free Improvisation
Label:
Emanem
Released:
1999
Quality:
FLAC (tracks+.cue)
Tracklist:
Wood On Wood 3:58
Amoebic Mystery 22:33
Running (With Scissors) 6:37
Bird With A Shell 11:58
Snail/Kite 4:20
Fox's Fox 3:56
Foxes Fox 17:17
Toast Sweat 3:25
Dog Bone D Flat 3:34

Personnel:

Double Bass – John Edwards
Drums, Cymbal, Timpani, Claves – Louis Moholo
Piano – Steve Beresford
Tenor Saxophone, Soprano Saxophone – Evan Parker
This quartet came about by accident. Fairly early in 1998, the trio of Evan Parker, John Edwards and Louis Moholo was booked to play a gig at the Vortex in London. On the night, Edwards was very ill - he managed to get through the first set, but couldn't summon up the strength to do the second. So Parker asked Steve Beresford, who happened to be in the audience, to step in for the second half. This worked so well that Parker decided to put together a band containing all four musicians, which went on to play the Vortex twice later on that year, and once more in May of the following year. Each time, the results were exemplary, leaving both the musicians and audience on a most satisfactory high, so it was decided to take the group into the recording studio in order to capture some of the music, resulting in this CD.
But this quartet isn't really about an accidental sequence of events. The relationships in it go very deep, and its formation may well have come about anyway. Parker and Moholo go back to the late 1960s, when they were both part of some of Chris McGregor's bands. Their paths have crossed many times since then. Parker and Beresford first knew each other in the early 1970s, although they didn't make much music together for some years. (Parker and Beresford also happen to be two of Moholo's favourite record producers.) A few years ago, Parker found himself playing alongside John Edwards in an ad hoc group. He was so impressed with what he heard that he has asked Edwards to work with him on several of his subsequent gigs.
The recording session went without a hitch - feeling more like a gig than a recording - so this CD contains more intensity than is usually associated with studio performances. As well as capturing some quartet performances, it was also decided to record some shorter duo and trio pieces. One trio piece by Parker, Edwards and Moholo (which contains the only use of soprano saxophone on the date) spontaneously segued into a bass and percussion duo, which in turn became a full-blown quartet performance. This sequence can be heard as FOXES FOX.
All of the music performed at the short session is included on this CD, presented in the order it was recorded (except that the opening bass and percussion duo was the fifth piece recorded). It says much of both the individual musicians and the group, that absolutely no editing was utilised to produce a recording of such a consistently high standard.