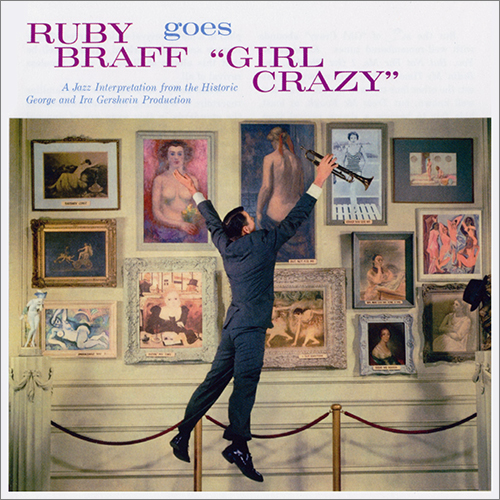 Artist:
Ruby Braff and The Shubert Alley Cats
Album:
Ruby Braff Goes "Girl Crazy"
Genre:
Mainstream Jazz
Label:
Warner / Wounded Bird Records
Released:
2009
Quality:
FLAC (tracks+.cue)
Tracklist:
Embraceable You (4:57)
Treat Me Rough (4:19)
But Not For Me (6:28)
Boy! What Love Has Done For Me (3:08)
I Got Rhythm (5:39)
Bidin' My Time (5:27)
Could You Use Me (6:18)
Barbary Coast (3:03)
DOWNLOAD FROM FILECAT.NET >>>
Personnel:

Ruby Braff - tp
Jim Hall - g
Hank Jones - p
Al Cohn - ts, cl
Buzzy Drootin - d
Bob Haggart - b (3, 5, 6)

George Duvivier - b (1, 2, 4, 7, 9)
The then-32-year-old trumpeter Ruby Braff was fond of show tunes, and took for his concept the songs from the Gershwin brothers' Broadway stage play Girl Crazy for this album, his sixth as a leader. The music played by this band under the moniker of the Shubert Alley Cats is fairly predictable within the swing style, but this recording at times leans more toward bop with the inclusion of pianist Hank Jones, guitarist Jim Hall, and especially Al Cohn, who plays his trusty tenor sax and a lot of clarinet. The musicianship is solid enough, the songs a bit stretched with solos, and the jazz fairly interesting within the conservative, mainstream, straight-ahead idiom. The hottest tune is the last, "Barbary Coast," as bassists Bob Haggart and George Duvivier go to town while the horns jam, while the slowest "Embraceable You" is the opener, a ballad where Braff plays in a style akin to Louis Armstrong.
In the middle you get a contradictory easy blues in "Treat Me Rough," and the uncharacteristically down-home "I Got Rhythm," accented by Jones and Hall, which merges into swing via Cohn's tenor. Hall's role as a rhythm guitarist seems untoward in what he would be as a leader, but his feature during the old-fashioned "Could You Use Me?" sets up the horns counterpoint, and is particularly pronounced on "But Not for Me." While Cohn's clarinet might not settle into familiar territory for those who know him as a bop tenor, he's especially sweet with Braff on "Treat Me Rough," and repentant for the poignant, lovely, melancholy, no-frills take of "But Not for Me." There's one more ballad, "Bidin' My Time," which is as basic as it gets, while a more vocal sound from Braff's muted trumpet comes forth on "Boy! What Love Has Done for Me." While the music is sophisticated, the heat of this music barely sparks any real flames, excepting the fine drumming of Buzzy Drootin and the always exceptional Jones when he chooses to turn it up a notch. It would have been nice to hear a follow-up recording from this clearly talented ensemble, for this instance captured in the early years of their lengthy and successful careers.