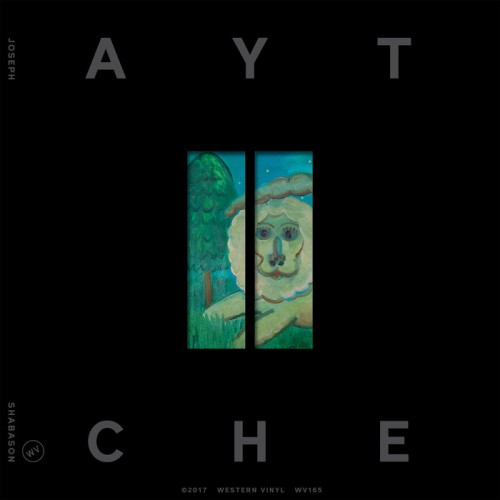 Artist:
Joseph Shabason
Album:
Aytche
Genre:
Ambient Jazz, Experimental
Label:
Western Vinyl
Released:
2017
Quality:
FLAC (tracks+.cue)
Tracklist:
Looking Forward to Something, Dude (04:01)
Aytche (03:48)
Neil McCauley (05:15)
Smokestack (04:12)
Tite Cycle (05:20)
Long Swim (04:54)
Westmeath (04:56)
Chopping Wood (04:01)
Belching Smoke (04:14)
DOWNLOAD FROM FILECAT.NET >>>
Personnel:

Joseph Shabason - saxophones
Nic Bragg - guitar
JP Carter - trumpet
Bram Gielen - bass
Philippe Melanson - drums
The debut album from saxophonist Joseph Shabason, best known for his work with Destroyer, shows a new side of his instrument. He uses electronics to create a kind of ambient jazz.
Reed, metal, and the nature of breath itself conspire to create the saxophone's distinctive tone—its shriek, its glide, its quicksilver caress. But what if you could mask or morph the instrument's identity using electronics; how far could you stretch it without losing its essence? The question is at the heart of Joseph Shabason's approach on his debut album, Aytche. Shabason is best known for his work with Destroyer, where he lends creamy soft-rock soloing to Dan Bejar's knotty, knowing compositions. Here, however, he tackles a more personal, idiosyncratic sound: a kind of ambient jazz, or maybe pastel noir, inspired by Jon Hassell's distinctive processed trumpet work and Gigi Masin's wind-kissed ambient.
Aytche's nine songs amount to a series of interrelated tone poems in which Shabason's digitally processed tenor swims amid watery synths, brushed drums, and occasional contributions on bass, trumpet, and guitar. Opener "Looking Forward to Something, Dude" introduces both the album's mood and its principal theme, one that will be reprised a few tracks later in "Smokestack" and again in the concluding "Belching Smoke": a soft chorus of saxophones playing a parallel chord progression that ebbs and flows as naturally as breathing. The saxophone is a monophonic instrument, but Shabason's battery of harmonizers and effects lets him milk rich chords from his horn, refracting sound through circuitry like light through a prism. Even if you're not well versed in the mechanics of woodwinds, you can tell intuitively that it's one player, not a chorus of three, by the way his vibrato is perfectly mirrored across the harmonized voices. There's an unmistakably uncanny quality to the music's slicked, too-perfect surfaces.
The album proceeds as a series of experiments in expressive veiling. "Aytche" is dominated by syncopated synths that sound almost like a halcyon memory of rave; above them float fluttering streaks of feedback and a muted trumpet solo, courtesy JP Carter. The saxophone is barely perceptible here, and it's equally subdued in the gorgeous "Neil McCauley," whose sorrowful keys and neon hues are faintly evocative of the Blade Runner soundtrack. "Tite Cycle," led by a slow, meditative synthesizer melody, is similar in feel to the title track, with a tri-harmonized sax part woven in like a stoned afterthought. Here and elsewhere, birdsong is audible in the background, lending to the impression that at least part of the album was recorded outdoors. (The recurring motifs—both incidental birdsong and the repeated theme from the opening track—help reinforce the sense of the album as an interconnected suite, rather than a series of standalone pieces.)
Shabason has spoken of wanting to subvert listeners' expectations of his instrument, to translate his horn into a "dense chordal texture" and avoid the show-offy displays of chops that constituted his training at conservatory. Yet some of the album's most exciting moments come when the music is tugged in two opposite directions—between sourceless and anonymous ambient sound, on the one hand, and hard-won virtuosity on the other. "Neil McCauley" is essentially a stylish showcase for Bram Gielen's breathtaking fretless bass playing; JP Carter's needle-nosed trumpet solo owns "Aytche"; Nic Bragg's weed-whacker guitar outbursts on "Smokestack" and "Belching Smoke" add grit to an album that tends to drift like dandelion tufts. And Shabason gets his own time to shine on "Long Swim," the most conventionally jazz-like piece here. Laying down a bed of pure breath, he proceeds to build parallel saxophone parts—one processed using his customary effects, the other a lilting and lyrical solo, unfettered by technology, in which his own melodic instincts take the lead.
Aytche is, for the most part, an easygoing album, but an unsettling undercurrent runs through it as well. The muted thumps and ominous dissonance of "Chopping Wood" play like an ambient riposte to Bitches Brew. And while the drifting keys of "Westmeath" may sound as placid as a rural getaway, snatches of recorded speech hint at darker energies. "My father died in '76," murmurs an unidentified man, and though he quickly disappears beneath the surface of the music, stray phrases bubble back up periodically: "The pain was too much for him… last act of individual… days of vengeance…" Shabason has said that the track concerns themes related to Holocaust survivors, degenerative illness, and assisted suicide, but the composer, the grandson of Holocaust survivors himself, doesn't belabor the point. Whatever personal meaning the music may have for him, he keeps it close, instead leaving the listener to contemplate only the rippled surface of grief—which floats, like the otherworldly sound of his saxophone, above a source that has been rendered all but invisible.
by Philip Sherburne