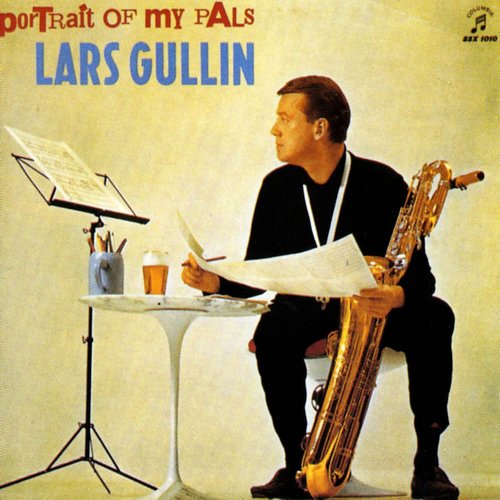 Artist:
Lars Gullin
Album:
Portrait of My Pals
Genre:
Bop, Cool
Label:
EMI
Released:
1964/1989
Quality:
FLAC (tracks+.cue)
Tracklist:
Portrait of My Pals (Gullin) - 7:01
It's True (Gullin) - 3:52
I've Seen (Gullin) - 6:28
You Stepped Out of a Dream (Brown) - 3:37
Prima Vera (Gullin) - 9:54
Decent Eyes (Gullin) - 6:37
Gabriella (Gullin) - 5:58
It's True (take 3) (Gullin) - 3:53
Detour Ahead (Ellis-Frigo) - 5:02
You Stepped Out of a Dream (take 4) (Brown) - 3:43
I've Seen (take 1) (Gullin) - 6:20
DOWNLOAD FROM FILECAT.NET >>>
This album was recorded in Lars Gullin's native Sweden in 1964. The line up on this album is as follows: Rolf Billberg on alto, Jan Allan on trumpet, Harry Backlund on tenor, Torgny Nilsson on trombone, and Lars Sjosten on piano, accompanied by a string section.
It goes with out saying that one can not describe a baritone saxophone sound of the era with out comparing it to one of two musical titans of the day, Gerry Mulligan or Pepper Adams. Tonally Mr. Gullin was more firmly encamped in the West Cast jazz tradition but with his own flavor. He was not a duplicate of Mulligan but was clearly inspired by the west coast jazz movement.
Lars' tone is clean and full throughout the entire register through he rarely dips below the staff in his soloing. It is not all that uncommon for baritone saxophonists of the day to solo exclusively in the middle to upper registers. Serge Chaloff rarely dipped below the staff as well unless it was to comp the current soloist. Gullin's bouncing and laid back swing style keeps his solos moving and enjoyable to listen to.
The other major voice on the album has to be Rolf Billberg. His alto playing is what I would consider the perfect melding of Charlie Parker and Paul Desmond. The edge of tone from Parker but the round fullness of Desmond. Listening to Prima Vera is a great example of Rolf's ability to use empty space, rhythm, and dynamics to lead the listener down a melancholic and reflective path as reinforced by the violins that follow. It is a tragedy that Rolf died at the young age of 36. I am sure that had he lived longer his impact on jazz in the United States would have been more apparent and significant.