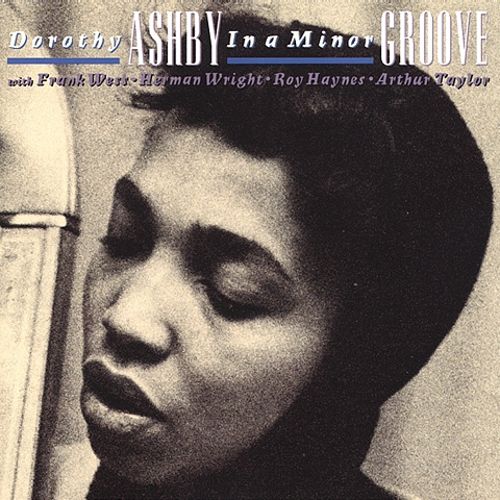 Artist:
Dorothy Ashby
Album:
In a Minor Groove
Genre:
Cool / Hard Bop / Harp
Label:
Prestige Records
Released:
1992
Quality:
FLAC (image +.cue)
Tracklist:
Pawky
Moonlight in Vermont
Back Talk
Dancing in the Dark
Charmaine
Jollity
There's a Small Hotel
Rascallity
You'd Be So Nice to Come Home to
It's a Minor Thing
Yesterdays
Bohemia After Dark
Taboo
Autumn in Rome
Alone Together
DOWNLOAD FROM FILECAT.NET >>>
Personnel:

Dorothy Ashby - harp
Frank Wess - flute
Herman Wright - double bass
Art Taylor - drums
Roy Haynes - drums
While not the first male or female jazz harp player (Casper Reardon of Jack Teagarden's bands, Adele Girard performing with her husband Joe Marsala, or Corky Hale set precedents), Dorothy Ashby was the very best and most swinging performer on the multi-stringed instrument associated with the gates of heaven. Here on Earth, Ashby adeptly plucked and strummed the harp like nobody else, as evidenced on a single reissue containing her two best LPs for the Prestige and Prestige/New Jazz labels from 1958 -- Hip Harp and In a Minor Groove. Alongside her prior efforts for the Savoy label, they collectively represent a small but substantive discography for the Detroit native in small group settings. With the exceptional flute sounds produced by Frank Wess, the combo plays music that is oriented via a unique sonic palate, further enhanced by the principals in the standards and originals they have chosen. Fellow Detroiter Herman Wright is here on bass, with duties split between legendary drummers Art Taylor and Roy Haynes, who place particular emphasis on subtle brushwork. Of course, the watchword of Ashby's sound is elegance, as she and Wess weave magical threads of gold and silver through standards like the circular and pristine "Moonlight in Vermont," the dramatic, slow "Yesterdays," or the sad "Alone Together." In a more Baroque or chamber setting, "Charmain" and "It's a Minor Thing" have Wess and Ashby thinking on a regal or Grecian platform. The variety on this collection is impressive, as you hear cinematic bluesy proclamations on "Autumn in Rome," striking mystery in "Taboo," mischievous and sly winks during "Rascallity," and a sexy calypso-to-swing beat as "You'd Be So Nice to Come Home To" unfolds. Two originals of Ashby's stand out -- the well swung, blues based yet exotic "Pawky" with the singularly unique flute of Wess, and the delicate but decisive "Jollity" that moves along nicely. Of course these are straight-ahead mainstream jazz musicians, and you also get a soaring, clean version of the tricky "Bohemia After Dark" and "Dancing in the Dark," where Ashby's harp acts like a rhythm guitar. In fact, it is this aspect of Ashby's performing style that sets her apart from being a singular or simplistic crystalline melodic implement. Then add to this element that Wess is so acutely fine tuned to pure tonal discourse simply by the nature of his instrument, and can carry the load by himself. This is a delightful package that deserves further recognition as a project unique to jazz and modern music, perfectly showcasing Dorothy Ashby as an individualist for the ages.
Review by Michael G. Nastos