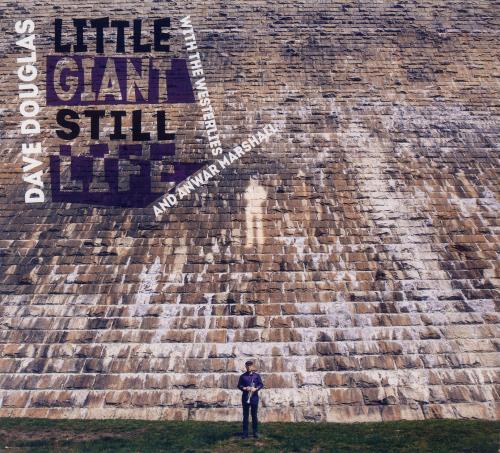 Artist:
Dave Douglas with The Westerlies and Anwar Marshall
Album:
Little Giant Still Life
Genre:
Modern Creative, Brass Band
Label:
Greenleaf Music
Released:
2017
Quality:
FLAC (tracks)
Tracklist:
Champion 05:58
Arcade 04:33
Men and Machine 03:26
Little Giant Still Life 05:14
Percolator 04:10
Your Special Day 03:22
Bunting 02:39
Swing Landscape 07:16
The Front Page 05:36
Colonial Cubism 03:58
Codetta 03:32
Worlds Beyond the Sky 03:27
DOWNLOAD FROM FILECAT.NET >>>
Dave Douglas has evolved into one of the giants of jazz. He's willing to take chances and expands familiar concepts, while possessing a signature sound and style amid all his technical gifts. On this release he charts a brass and drums course with the New York-based 4-man horn section and recording artists The Westerlies, along with ace drummer Anwar Marshall (Kurt Rosenwinkel, Fresh Cut Orchestra).
Due to the all-brass framework I occasionally experienced a bit of listening fatigue, yet the radiant themes with Douglas' sinuous arrangements yield gratifying results. On the opener "Champion," the musicians' pumping notes are supported by Marshall's crisp and precision-oriented beats, as the band intertwines a bluesy spirit with blustery phrasings and hard-hitting intervals. Moreover, there are an abundance of crests and sinuously executed passages on this album as the ensemble operates in perpetual motion while reengineering primary motifs along the way.
Marshall provides muscle and a pliant impetus throughout, as Douglas often contrasts and counterbalances The Westerlies' tightly organized unison lines. However, the blues element underscores many of the leader's lyrical soloing jaunts such as "Little Giant Still Life," where the band maps out a memorable hook with an upfront demeanor. Here, Douglas' raspy accents and down and dirty choruses offset pieces like "Bunting," which offers a little free-form mayhem and soaring crescendos.
The musicians tender a mesmeric sequence of musical events, constructed on odd-metered and near-flawlessly executed unison lines, but "Swing Landscape" is rather laidback as the trumpeter's soloing includes shades of gospel and trad jazz applications. Indeed, the hornists mix it up in rather spry fashion during the bridge. And the circuitous "Colonial Cubism," combines bustling bop with old school jazz frameworks. Hence, it's a piece that projects an alternative view. Consequently, Douglas and associates are supreme change agents by offering a disparate outlook on many of the roads previously traversed, implemented with gilded hues and the utmost synergy.