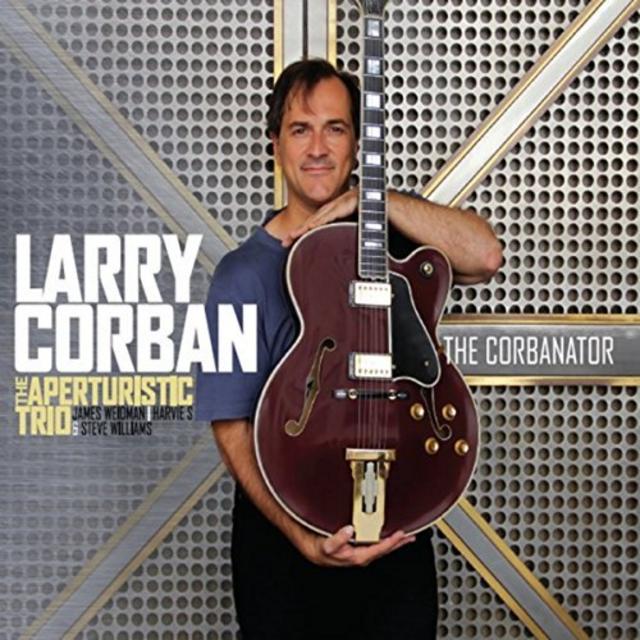 Artist:
Larry Corban & The Aperturistic Trio
Album:
The Corbanator
Genre:
Straight-Ahead Jazz
Label:
Nabroc Records
Released:
2014
Quality:
FLAC (tracks+.cue)
Tracklist:
Dizzy Affairs
The Corbanator
Sea of Fire
Hidden Reality
Event Horizon
Old Folk
Stacked Coincidences
Two, Two, Three Step
Swamp Ditty
Don't Lock the Top
Limits of Inquiry
Blue in Green
You Stepped Out of a Dream
DOWNLOAD FROM FILECAT.NET >>>
Personnel:

Larry Corban - guitars
James Weidman - piano
Harvie S - bass
Steve Williams - drums
New York-based guitarist Larry Corban took his time creating a follow-up to his debut— Moving 4-Ward (Self Produced, 2002); it would be more than a decade before album number two—The Circle Starts Here (Nabroc Records, 2013)—would appear, but that one got the ball rolling again. Corban formed a strong connection with his trio mates on that project—bassist Harvie S and drummer Steve Williams—so he wisely brought them back for this album, adding pianist James Weidman—their band mate in The Aperturistic Trio—to make it a foursome.
The Corbanator is a thrilling date with strong soloing and engaging interplay, but it also showcases Corban's writing talents, featuring originals that run the gamut from idiosyncratic and Monk-ish blues ("The Corbanator") to bop- based contrafacts ("Dizzy Affairs") to comfortably-felt odd-metered vehicles (""Hidden Reality"). In addition, Corban cooks on his own ("Swamp Ditty") and delivers some delightful duets with himself. That material, while well-played, is something of a double-edged sword, breaking up the flow of the album yet providing welcome contrast.
While Corban's originals make up the bulk of the program, he works three classics into the mix. "Old Folks" comes off like a masterclass in taste, with Weidman and Corban starting things off, Harvie S delivering a deeply felt solo, and Williams gently supporting from below with his brushes; the penultimately-placed "Blue In Green"—the last of the guitar duets—is a low volume/high energy performance that tops the other Corban-on-Corban numbers; and "You Stepped Out Of The Dream," which closes out the album, is built on shifts between Latin and swing feels. Through it all, Corban kills, the band sounds like a million bucks, and the music benefits from the way all four players come together. Larry Corban has really hit his stride.
by Dan Bilawsky