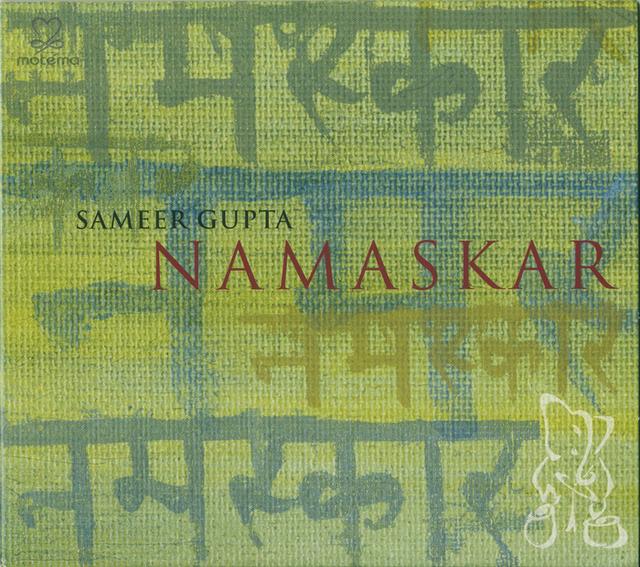 Artist:
Sameer Gupta
Album:
Namaskar
Genre:
Ethnic Jazz, World Fusion
Label:
Motéma Music
Released:
2010
Quality:
FLAC (image+.cue)
Tracklist:
Aaye Na Balam
Salaam
Love's Lying Story...
Jangle
Walk With Me
Puriya Harlem Dhanashree
Attachment
Thumri
Raga Shivaranjani in Mishra Tala
Blue in Green (Raang)
DOWNLOAD FROM FILECAT.NET >>>
Personnel:

Sameer Gupta - drumset, tabla
Marc Cary - piano, keyboards
Pandit Anindo Chatterjee - tabla
Pandit Ramesh Misra - sarangi
Srinivas Reddy - sitar
David Boyce - saxophone, efx, bass clarinet
Prasant Radhakrishnan - carnatic saxophone
Charith Premawardanan - viola
David Ewell - acoustic bass
One of the bigger regrets I've had with this site was missing the opportunity to review Rudresh Mahanthappa's Kinsmen when it was released two years ago, because this saxman of Indian descent did such a brilliant job in combining traditional Indian music with traditional jazz. Last week, the debut album by another Indian-American, the percussionist and tabla player Sameer Gupta. It's another creative blend of Indian and American jazz music forms, but this time, there are more modern flourishes involved. Nonetheless, I won't pass up the opportunity to review a really good Indian-inspired jazz record this time.
Namaskar is the name of Gupta's coming out affair, and it's a Sanskrit word that means "to show respect, pay homage or welcome another," explains Gupta in his liner notes. This is exactly what Gupta seeks to do on this record, pay homage to the traditional raga music, the more contemporary Indian Bollywood music from that country's movie industry, and modern American jazz. Gupta's background has prepared him well for all three.
His trips back to his ancestral homeland growing up exposed him first hand to Indian music of all kinds, even from attending movies there that blatantly borrowed heavily from American pop culture. Gupta noticed too that Indian society in general adopted Western pop culture to create a hybrid that became distinctly Indian. Namaskar attempts to do the opposite, that is, "Indianize" American music.
Gupta is no stranger to American music, either. He's worked as a jazz drummer for leaders ranging from bebop to avant-garde: Wallacy Roney , Grachan Moncur III, Prince Lasha, Sonny Simmons and Vijay Iyer , to name of few. As a tabla player, he's also performed with a long list of noted Indian artists, some of whom play on this album.
Gupta's main partner on this album is the American pianist Marc Cary. Gupta has served as Cary's drummer for Cary's Focus Trio Live 2008 and Focus Trio Live 2009, and the two of them produced both records (Focus Trio Live 2009 is a fine Cary album overdue for a few remarks about it on this space, and I intend to rectify that soon). The same two teamed up to produce Namaskar, with Cary's piano and various keyboards often serving as the primary tonal voice on this record. Joining them are Pt. Anindo Chatterjee on tabla, Pt. Ramesh Misra on sarangi, Srinivas Reddy on sitar, David Boyce on sax, EFX and bass clarinet, Prasant Radhakrishnan on carnatic sax, Charith Premawardanan on viola and David Ewell on acoustic bass.
Most of the ten tracks on this album were composed by either Gupta or Cary. Three of Gupta's songs, "Salaam," "Love's Lying Story (Has Me Crying)," and "Jangle" were directly inspired by scores of movies from Bollywood's Golden Era. All three, although with distinct characters, are where Gupta's ideas about an Indian-American cauldron of music are most vivid. "Salaam" grafts Indian melodies with a 21st century world groove. "Love's Lying Story" takes a lovely melody and gives it a nice mid-tempo groove and Cary's electric piano lines uses jazz phrasing but the notes chosen are more in line with Indian song structures. "Jangle" is the most explicitly traditional Indian of the three, but is also a collision of traditional Indian and electronic American instruments. For all three compositions, Boyce's fx'ed saxophones and bass clarinet provide that extra exotic ingredient that gives these songs a veneer that makes them stand out compared even to some of the more imaginative ethnic fusion music you hear these days.
Cary's two tunes, "Walk With Me" and "Puriya Harlem Dhanashree," veer much closer to traditional jazz, and the composer's use of acoustic piano has partly to do with that, but also his use of jazz song structures. However, the Indian percussion behind these songs do nothing but enhance the rhythmic constructions, and Cary knows how to play in sync with these rhythms.
"Thumri," a traditional Indian folk song, is the least Westernized song of this collection, but it's not entirely Indian, either: Cary's spacey Rhodes softly improvises simultaneously with Premawardanan's viola. The set ends with a de facto cover of the Miles Davis/Bill Evans classic, "Blue In Green," retitled "Colours." Gupta's arrangement of it put a seven beat cycle called a "rupak taal" with a repetitive pattern (a "chhand"), that—-maybe unintentionally—-gives the tune a sleek, modern lounge feel.