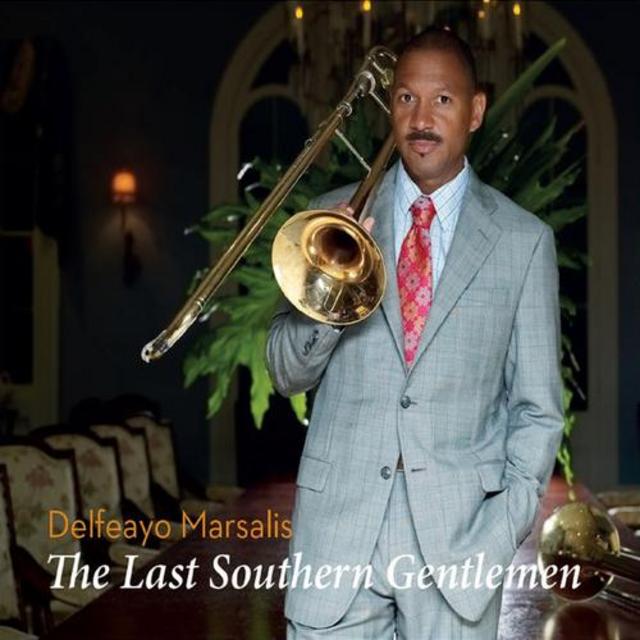 Artist:
Delfeayo Marsalis
Album:
The Last Southern Gentleman
Genre:
Bop, Hard Bop
Label:
Troubadour Jass Records
Released:
2014
Quality:
FLAC (tracks+.cue)
Tracklist:
The Secret Love Affair - 5:39
Autumn Leaves - 6:04
She's Funny That Way - 3:13
Sesame Street - 5:46
I'm Confessin - 5:35
But Beautiful - 7:00
Speak Low - 7:47
Nancy - 5:53
The Man with Two Left Feet - 4:22
That Old Feeling - 5:19
My Romance - 3:49
If I Were a Bell - 4:49
I Cover the Waterfront - 5:33
DOWNLOAD FROM FILECAT.NET >>>
Personnel:

Delfeayo Marsalis - trombone
Ellis Marsalis - piano
John Clayton - bass
Marvin "Smitty" Smith - drums
Herlin Riley (#4) - tambourine, bass drum
"Delfeayo Marsalis - The Last Southern Gentleman" speaks low, sensual, musical poetry out of Marsalis' Bach 42-G trombone with a Bach 6 1/2AL Megatone, and emphatically puts that old feelin' in romance again. That errant feeling, so hard to nail down without full blown honesty and commitment, is fashioned out of the beautiful soundscape of the Great American Songbook and others, and adds enviable effulgence to Marsalis' burgeoning reputation as one of the premiere trombonists, composers and producers of jazz music today.
The CD opens with the Delfeayo Marsalis' mesmerizing, mellow-toned trombone, smoothly crooning his composition (The Secret Love Affair). Marsalis play with clarity, economy and superby balanced form reminiscent of Ellington's great trombonist Lawrence Brown. But it is drummer Marvin "Smitty" Smith who adroitly captures the senses; then transports them to an exotic destination where the 'bolero' is still danced by the light of the moon, and the prevailing mood is perfect for Ellis Marsalis' piano's subtle 'invitation' (Autumn Leaves) to enjoy superb piano stylings shaped from a life of hard working and teaching in jazz. Marsalis' contention being that, "jazz is not just about music - jazz is about life."
"The Last Southern Gentleman" is a date that has what it takes to trigger a significant emotional event. Significant emotional events usually cause change - be careful with whom you are close, as you listen to the music; change is fickle. It may be good, or not. On the surface though, there is a harvest of 'good' that derives from this music, the musicians and the mission: Music played by a quartet of acknowledged jazz masters with a mission to "...pay tribute to the humanity and humility at the center of the Southern lifestyle that birthed America's original music." (Delfeayo Marsalis). Music that is drawn from classic ballads and jazz standards of venerable composers and lyricists; tunes not heard much these days, but which jazz fans can never seem to get enough of. Of note are (I'm Confessin') Doc Daughtery/Ellis Reynolds/Al Neiburg's 1930 popular jazz standard, and Richard Whiting/Charles Daniels' 1928 popular song (She's Funny That Way) each played by the younger Marsalis with deep emotional reach, and the bracing simplicity of a swan song.
There are some musical highlights that should not to be missed: (Sesame Street Theme; If I Were a Bell; Speak Low). Delfeayo Marsalis' muted 'Sesame" work swings flawlessly, and Ellis Marsalis' fingers are coated with rich 'Mississippi Delta mud and soul; while Herlin Riley and Smith add enough rhythm to rename the 'street'; "Swing Street." Further on down the strip, 'Marsalis, bassist John Clayton and drummer Marvin "Smitty" Smith cruise through a 'swingin', version' of Frank Loesser's 1959 standard "If I Were a Bell." Ellis Marsalis' elegant lyricism, modernity, and limpid spontaneous improvisation reach as high on the arc of performance for modern jazz piano as William "Red" Garland's 1957 rendition which, up until now, may have been the definitive trio version, with Paul Chambers on bass, and Arthur Taylor on drums (Red Garland & Piano, Prestige 7086). Later, in an all out assault on unbridled swing, the band literally torches and scorches Kurt Weill & Ogden Nash's 1943 jazz standard (Speak Low). Smith gets loose from the rhythm section on this burner, and pours enough high-octane polyrhythmic fuel on the proceedings to start a 5-alarmer.
In the current jazz universe, the 'brand' Marsalis has an almost eponymous effect on the genre, and the significance of this prideful father/son collaborative cannot be overstated. Apart from its stated mission, it is a date that has something for every jazz enthusiast: nostalgia, romance, modernity; swing and good taste. Good taste as in the final track, Johnny Green/Edwin Heyman's 1933 popular song (I Cover The Waterfront). It's akin to the last ounce of Absinthe, Sazerac, or Hurricane cocktail respectfully left in the bottle for the patriarch to savor at his leisure. It is to remind him of the old times, the good times, and times yet to come.