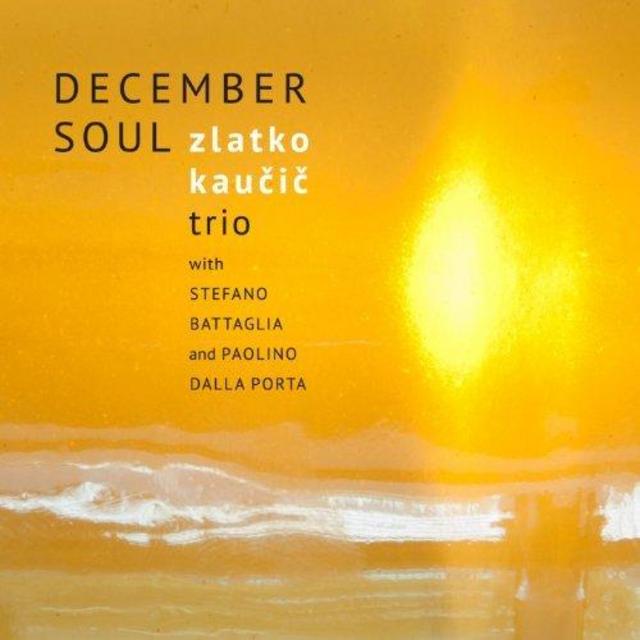 Artist:
Zlatko Kaucic Trio
Album:
December Soul
Genre:
Avant-Garde / Modern Creative
Label:
Not Two Records
Released:
2013
Quality:
FLAC (tracks)
Tracklist:
December Soul (Kaucic)
Jacob #1 (Battaglia / dalla Porta / Kaucic)
Morning Veil (Kaucic)
Mavrice (Kaucic)
Simona na Obisku pri Mojci (Kaucic)
Jacob #2 (Battaglia / dalla Porta / Kaucic)
Senci (Kaucic)
Jacob #3 (Battaglia / dalla Porta / Kaucic)
Julijske Barve (Kaucic)
DOWNLOAD FROM FILECAT.NET >>>
Personnel:

Zlatko Kaucic - drums, percussion
Stefano Battaglia - piano
Paolino dalla Porta - double bass
A highly musical drummer, Zlatko Kaucic's decades running resume encapsulates a who's who litany of modern jazz artists and avant-garde improvisers. Born in Slovenia, he's set up home base in Italy and Holland and has garnered industry and cultural awards. Kaucic's December Soul is a coolly stirring trio date, featuring Italian luminaries, pianist Stefano Battaglia and bassist Paolino Dalla Porta.
Nothing gets too out of hand on this largely tantalizing session, comprised of ethereal inflections, avant-garde expressionism, and quietly melodic storylines, teeming with gingerly placed hues and shadings. The bulk of this set boasts a subtle air of suspense, where the musicians engage in gradual ascension as a premise for colorizations and exchanges.
The trio engages balladry with perhaps a subliminal nod to Bill Evans on the breathy and pensive "Morning Veil." And Battaglia's rolling single note flurries with rests in between phrasings are reminiscent of Keith Jarrett fare during "Simona na Obisku pri Mojci." Kaucic lightly peppers the pianist on the tender and capacious piece, "Senci." However, the lengthiest work at 14-minutes and final track "Julijske Barve," commences with Battaglia's tenderly placed block chords atop the rhythm section's asymmetrical pulse. The pianist also injects a circular motif, gradually elevating the pitch as Kaucic mimics the plot by stretching out, leading to a rephrasing of the main theme into an up-tempo funk-rock pulse.
Even though there are vast amounts of harmonically attractive opuses throughout the program, the musicians don't opt for a sugar and spice presentation. They sustain interest with an abundance of investigative dialogues and open-ended exchanges, tinted with eloquence and a throng of off-center musings.