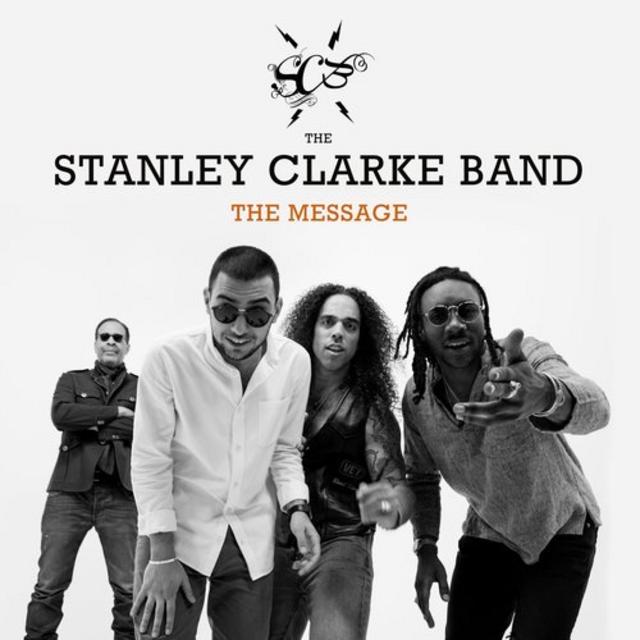 Artist:
The Stanley Clarke Band
Album:
The Message
Genre:
Fusion
Label:
Mack Avenue Records
Released:
2018
Quality:
FLAC (tracks+.cue)
Tracklist:
And Ya Know We're Missing You (Clarke-Fresh) - 1:59
After the Cosmic Rain/Dance of the Planetary Prince (Clarke) - 6:59
The Rugged Truth (Graves-Gochiashvili-Mitchell) - 3:32
Combat Continuum (Graves-Blum-Clarke-Gochiashvili-Mitchell) - 5:05
The Message (Clarke) - 2:48
Lost in a World (Clarke-Mitchell-Graves-Gochiashvili-Kole-Wesley-Clarke-Seeman) - 5:31
Alternative Facts (Clarke-Graves-Gochiashvili-Mitchell) - 3:47
Bach Cello Suite 1 (Prelude) (J.S.Bach) - 2:26
The Legend of the Abbas and the Sacred Talisman (Clarke-Gochiashvili) - 4:04
Enzo's Theme (Graves-Mitchell-Gochiashvili) - 3:45
To Be Alive (Clarke-Fresh-Mitchell-Graves) - 4:53
DOWNLOAD FROM FILECAT.NET >>>
Personnel:

Stanley Clarke - guitar, bass
Beka Gochiashvili - piano
Cameron Graves, Pat Leonard, Dominique Taplin - synthesizers
Mike Mitchell - drums
Salar Nadar - tabla
Doug Webb - saxophone, flute
Chuck Findley, Ron Stout - trumpet, French horn
Dwayne Benjamin - trombone
Michael Thompson - guitar
Steve Blum, Skyeler Kole, Trevor Wesley, Sofia Sara Clarke, Chris Clarke, Doug E Fresh - vocals
The Stanley Clarke Band moniker goes back at least as far as 1985's electro-funk-inflected Find Out!, and picked up in earnest with 2010's eponymously titled The Stanley Clarke Band. The only real through-line, however, is virtuoso bass pioneer Clarke, who leads his ever-evolving bands through what are usually a stylistically varied set of songs that touch upon driving jazz-fusion, funky crossover jams, harmonically nuanced acoustic modal bop, and even forays into classical. It's a cross-pollinated vibe he championed on 2014's Up and one he returns to with conceptual gusto on 2018's expansive The Message. Joining him are pianist Beka Gochiashvili (who previously played Up), keyboardist Cameron Graves, and drummer Mike Mitchell. Musically, each of these players are compelling in their own right, and make for a dynamic unit. While Clarke doesn't completely grab on to one central theme here, the general tone of The Message is one of reaching for enlightenment in what often seems like a troubling, dystopian world. It's a vibe that's largely intimated in song titles like "The Rugged Truth" and "Alternative Facts," both of which marry propulsively swinging jazz-rock rhythms with sparkling keyboard work. Elsewhere, tracks like the sprawling "After the Cosmic Rain/Dance of the Planetary Prince" and "Combat Continuum," with its spoken-word narrative about a global resistance battle against an invader with "massive unknown technology," evokes '70s prog rock conceits, just as surely as it allegorically implies more contemporary social and political concerns. Clarke also bookends his album with two hip-hop jazz pieces featuring rapper Doug E. Fresh, including a thrilling opening bass and beatbox homage dedicated to a handful of longtime Clarke associates who passed away while he was working on the album, including Al Jarreau, Larry Coryell, Tom Petty, and others. Interestingly, the title track, while aesthetically in keeping with fusion-influenced tone of the album, finds Clarke stepping away from his bandmates and collaborating on a brightly atmospheric, new age-sounding ballad with synth and sound designer Pat Leonard. Elsewhere, he dips into soulful pop balladry on "Lost in a World" with vocalists Trevor Wesley and Skyeler Kole, displays his adept, classical chops with a lyrical rendition of the "Bach Cello Suite 1 (Prelude)," and draws upon his work with pianist Chick Corea for the far-eyed acoustic jazz ballad "The Legend of Abbas and the Sacred Talisman." Ultimately, while the conceptual "message" of The Message can often seem a bit unfocused, Clarke's music remains as crisp and inventive as ever.
Review by Matt Collar