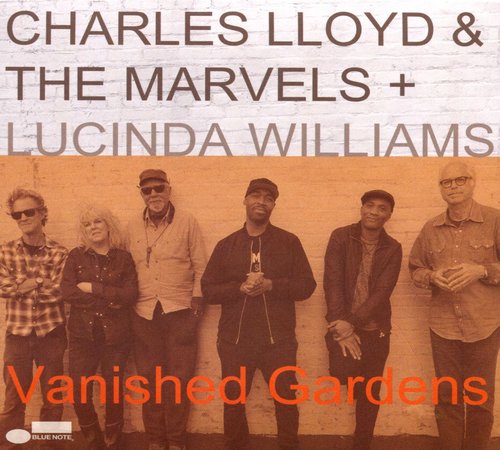 Artist:
Charles Lloyd & The Marvels + Lucinda Williams
Album:
Vanished Gardens
Genre:
Post-Bop, Contemporary Jazz
Label:
Blue Note Records
Released:
2018
Quality:
FLAC (tracks+.cue)
Tracklist:
Defiant (Lloyd) - 8:44
Dust (Williams) - 8:01
Vanished Gardens (Lloyd) - 9:06
Ventura (Williams) - 6:25
Ballad of the Sad Young Men (Landesman-Wolf) - 6:19
We've Come Too Far to Turn Around (Williams) - 6:32
Blues for Langston and LaRue (Lloyd) - 5:41
Unsuffer Me (Williams) - 11:42
Monk's Mood (Monk) - 5:18
Angel (Hendrix) - 5:54
DOWNLOAD FROM FILECAT.NET >>>
Personnel:

Charles Lloyd - tenor saxophone, flute, ghost vocals
Lucinda Williams - vocals
Bill Frisell - guitar
Greg Leisz - pedal steel guitar, dobro
Reuben Rogers - bass
Eric Harland - drums
On Charles Lloyd & the Marvels 2016 debut, I Long to See You, the ensemble -- the saxophonist's rhythm section, drummer Eric Harland and bassist Reuben Rogers, and guitarists Bill Frisell and Greg Leisz -- delivered an honorable but overly deferential outing that somewhat belied the promise of its personnel. On Vanished Gardens, the Marvels leave deference in the dustbin. Here, with the assistance of Lucinda Williams, they create a music that draws on the sum total of experience and shared emotion. Lloyd, Frisell, and Leisz have all worked with rockers and country and blues players, while Harland and Rogers are jazz modernists rooted in tradition. The addition of Williams on four of her own tunes and a cover of Jimi Hendrix's "Angel" transforms this band into a genre-blurring ensemble whose abilities mine the jazz and Americana traditions to redefine them in the new century.
"Defiant" commences as an extended showcase for Lloyd's modal and melodic soloing with loping pedal steel inside a 4/4 shuffle with Frisell's lonesome, lyrical playing. Williams enters on "Dust." The song originally appeared on 2016's Ghosts of Highway 20. In waltz time, Frisell's rockist power chords and Leisz's lap steel wails meet Lloyd's swirling, loping tenor that offers blues vamps amid post-bop swells to frame Williams' haunted, grainy vocal as she sings: "You couldn't cry if you wanted to/Even your thoughts are dust," before erupting in a post-Coltrane solo with Frisell climbing behind him. The title track, with its skittering rhythms, wavelike pedal steel passes, and matched solos by Frisell and Lloyd, is a bluesy exercise in improvisation. The arrangement in Williams' "Ventura," (that appeared on West), remains startlingly close to that of the original, but Lloyd's soulful phrasing undergirds her singing with a particularly Southern grace. The inclusion of the standard "Ballad of the Sad Young Men" feels like an outlier. It's a skeletal, impressionistic ballad that lacks an anchoring center, it simply hovers and floats. Not so with the singer's raggedy gospel in "We've Come Too Far to Turn Around," where the weariness in the lyric meets the band's ability to braid Williams' voice with an emotional color palette that matches her own. The 11-plus-minute reading of her "Unsuffer Me" is the perfect meld of rock, blues, and modern post-bop jazz as both guitarists engage one another and Lloyd, who serves as the bridge between them and the singer with squeals, blurts, and flutters with his moaning horn. "Monk's Mood" is lovely, but only because of Lloyd's playing. The closing Hendrix cover is presented as a country-gospel meditation on love and eternity. Williams treats the tune as if it were her own; Frisell and Leisz surround her in soft, luxuriant textures as Lloyd accompanies her in a kind of spacy, hooky duet. Interestingly, the uneven moments on Vanished Gardens have more to do with the Marvels' reticence on the standards. Otherwise, the pairing of this band with Williams sounds natural, effortless, and holistic. There's definitely room for a sequel.
Review by Thom Jurek