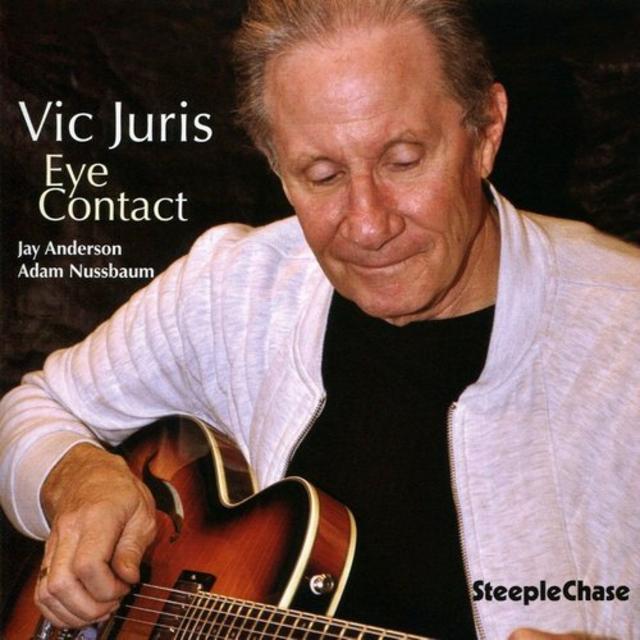 Artist:
Vic Juris
Album:
Eye Contact
Genre:
Post-Bop
Label:
SteepleChase
Released:
2018
Quality:
FLAC (tracks+.cue)
Tracklist:
United (Shorter) - 4:06
Ruby (Roemheld) - 7:50
I Fall in Love Too Easily (Styne) - 7:03
We See (Monk) - 7:25
Sim (Juris) - 5:05
Pinocchio (Shorter) - 4:19
Sweet and Lovely (Arnheim-Tobias-Lemare) - 6:50
Domo's Delight (Juris) - 3:44
Time Remembered (Evans) - 7:36
Eye Contact (Juris) - 7:32
To Love and Be Loved (Van Heusen) - 6:30
DOWNLOAD FROM FILECAT.NET >>>
Personnel:

Vic Juris - guitar
Jay Anderson - bass
Adam Nussbaum - drums
Consideration of Vic Juris' CV reveals a career arc common to a jazz guitarist of his age and distinction. Home study on the instrument as an adolescent, avid exposure to seminal albums, teenage years spent ripening in rock bands, connections made with mentors, regular gigs as a sideman and leader parlayed into a parallel path and an educator in academia. Eye Contact is Juris' fourteenth project at the helm for Steeplechase and he has easily another four times that in the service of colleagues. The album stands out in that veritable forest for featuring his strings in the company of just bass and drums, handled ably by Jay Anderson and Adam Nussbaum respectively.
The program is survey of some of Juris' predilections with comparatively complex tunes by Wayne Shorter and Thelonious Monk parceled around a handful standards and a trio of originals. The ringing rendition of the former's "United" as opener is relaxed without being rote, but it reveals an arguable sticking point in the guitarist's approach, namely his tone. Warm and shimmery it's redolent of the sort of sound that was au courant during the 1970s as an alternative to more rock-inflected forms of jazz expression. Framed by Nussbaum's pattering brushwork, the lightly sashaying take on the standard "Ruby" is even more tranquil and innocuous.
"We See" and "Pinocchio" each open up plenty for the trio to probe rhythmically and harmonically. Nussbaum kicks off the latter tune in a succession of cresting press rolls. The Monk piece provides playful suspensions along with Anderson's most profitable solo space of the set, although his preamble to Bill Evans' "Time Remembered" is a close runner up in its merger of somber logic and careful construction. Shaving off the milky reverb-thickened cream from Juris' fluid lines reveals corkscrew patterns that are at once clever, artful and further embellished by his partners close accompaniment.
On the originals front, "Sim" finds Juris trading the relative safety his amplified hollow body for darkly strummed and picked acoustic in a performance that recalls the sort of duo detours he took regularly in his youth. Anderson keeps galvanizing pizzicato pace and the piece rates as a session highpoint. "Domo's Delight" is different still as the trio delves the milder side of Milesean fusion and Juris gets his unfettered arpeggios on to the accompaniment of a bustling rhythm. The title ballad weighs the treacly side of Juris' tonal choices against the sterling dexterity and placement in his delivery with the latter column winning out by a narrow margin. Subjective reservations aside the album stands sturdily on its merits.
Review by Derek Taylor