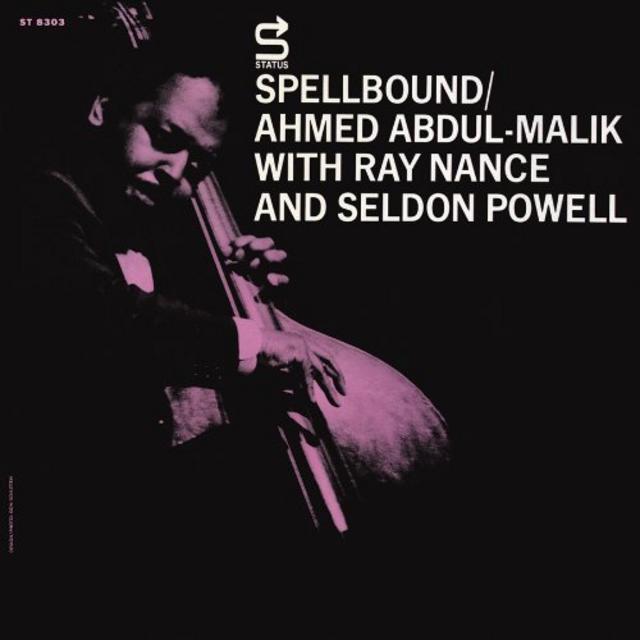 Artist:
Ahmed Abdul-Malik, Ray Nance, Seldon Powell
Album:
Spellbound
Genre:
World Fusion, Hard Bop
Label:
Real Gone Music
Released:
1964/2013
Quality:
FLAC (tracks+.cue)
Tracklist:
Spellbound (Rozsa-David) - 4:57
Never on Sunday (Manos-Franco) - 5:14
Body and Soul (Green) - 7:14
Song of Delilah (Young-Evans) - 7:02
Cinema Blues (Abdul-Malik) - 8:16
DOWNLOAD FROM FILECAT.NET >>>
Personnel:

Ahmed Abdul-Malik - bass
Ray Nance - cornet, violin
Seldon Powell - tenor saxophone, flute
Paul Neves - piano
Walter Perkins - drums
Hamza Aldeen - oud
Spellbound, recorded in 1964, is double bassist and oud player Ahmed Abdul-Malik's final date as a leader, though given its contents, it shouldn't have been. Abdul-Malik, an American born musician of Sudanese descent, helped to bring the sounds of the Middle East to jazz in the '50s, incorporating oud and a different set of scales in his own recordings. His sidemen for this date are ubiquitous Duke Ellington Orchestra cornetist Ray Nance, who also plays violin here, drummer Walter Perkins, saxophonist/flutist Seldon Powell, the little known pianist Paul Neves, and oud player -- on two tracks -- Sudanese musician Hamza Aldeen (not to be confused with the Egyptian composer, oud and tar player Hamza el Din). The program on this date is unusual: three of the five tunes here come from movie soundtracks. The opening title track is from the Alfred Hitchcock film of the same name and features a fine, gently swinging solo from Neves, and some excellent frontline and violin from Nance. "Never on Sunday," from the Greek film of the same name, is a showcase for Aldeen, who twins his lines with Nance's plucked violin, anchored by Abdul-Malik and Perkins. Powell's flute moves off into a solo before the piano and oud restate the theme followed by a saxophone, piano, and second flute break. It's breezy, easy, and it swings. The interplay between Nance's cornet break and Powell's tenor solo registers its emotion as Neves fills the melody with wonderful, spacious, right-hand arpeggios. Abdul-Malik's bass opens "Song of Delilah" from the film Samson & Delilah. He's followed in a complex melodic statement by flute, a gypsy jazz solo by Nance on violin, and finally, a gorgeous oud break based on a single chord -- with deep, responsorial bass from Abdul-Malik -- that eventually moves the tune into a grooving flute break. Closer "Cinema Blues" isn't from a film. Instead, it's a straight-ahead hard bop blues, with some fine muted cornet work, killer comps from Neves, and a fluid, mid-register solo by Powell, with a driving rhythm section. Spellbound isn't as groundbreaking as some of Abdul-Malik's earlier work, but it doesn't need to be: by this point, he had successfully melded jazz with Middle Eastern sounds into a seamless -- if somewhat exotically textural -- whole. The band fires on all cylinders under his inspired direction, making this a fitting sendoff to him as a bandleader. Musically, he saved one of his best for last.
Review by Thom Jurek