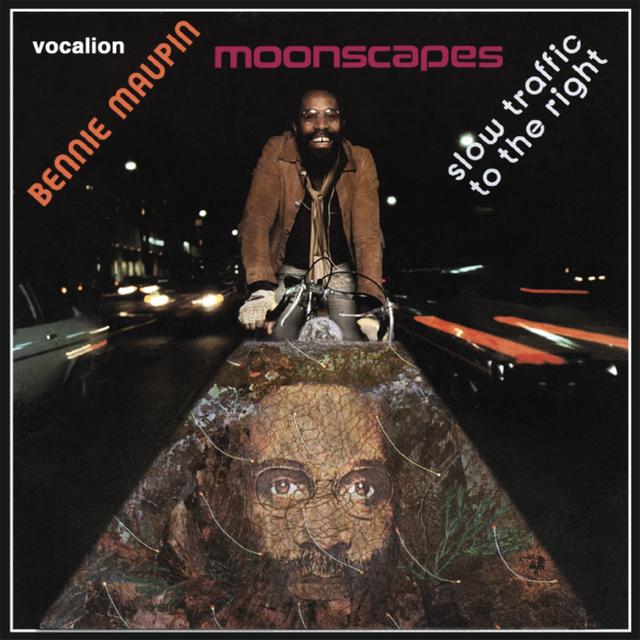 Artist:
Bennie Maupin
Album:
Slow Traffic To The Right & Moonscapes
Genre:
Fusion, Jazz-Funk
Label:
Vocalion
Released:
2011
Quality:
FLAC (tracks+.cue)
Tracklist:
Slow Traffic to the Right

It Remains to be Seen (Maupin)
Eternal Flame (Maupin)
Water Torture (Maupin)
You Know the Deal (Monteiro; Jackson)
Lament (Gumbs)
Quasar (Maupin)

Moonscapes
Nightwatch (Maupin)
Farewell to Rahsaan (Maupin) Dedicated to Rahsaan Roland Kirk (1936-77)
Anua (Maupin)
A Promise Kept (Maupin)
Just Give It Some Time (Gumbs)
Sansho Shima (Maupin)
Crystals (Maupin)
DOWNLOAD FROM FILECAT.NET >>>
American saxophonist and bass clarinettist Bennie Maupin came to prominence during the latter half of the 1960s as one of the most distinctive new voices in jazz. Paying his dues in groups led by an illustrious roll call of jazz greats including Roy Haynes, Horace Silver, Andrew Hill, Jack DeJohnette and Marion Brown, in 1969 Maupin was summoned to the Columbia studios by none other than Miles Davis to participate in the sessions that yielded the trumpeter's landmark jazz-rock album 'Bitches Brew'. From there, Maupin joined the ranks of the jazz elite, and in the early '70s formed an alliance with another jazz great (and ex-Davis sideman), Herbie Hancock. Maupin became an integral part of Hancock's two classic '70s groups – the avant-garde ensemble Mwandishi and the powerhouse jazz-funk band Head Hunters. Maupin contributed powerfully to such famous Head Hunter's albums as 'Headhunters' (1973, which featured the legendary jazz-funk jam Chameleon), 'Thrust' (1974) and 'Man-Child' (1975). This release marks the first ever CD reissue of Bennie Maupin's two late '70s albums – 'Slow Traffic to the Right' (1977) & 'Moonscapes' (1978) – recorded for the Mercury label. They form the ideal showcase for Maupin's talents both as a composer and instrumentalist, featuring his unique brand of sophisticated jazz-funk tinged with a spiritual, cosmic edge. Among the thirteen tracks are gorgeous jazz-funk remakes of Quasar and Water Torture, two pieces Maupin composed for the Mwandishi band, alongside other electrifying Maupin originals including It Remains to be Seen, Nightwatch, Sansho Shima (written for Herbie Hancock's group) and Farewell to Rahsaan, Maupin's poignant dedication to jazz legend Rahsaan Roland Kirk. On both sessions Maupin is accompanied by a stellar cast of musicians including Eddie Henderson (trumpet/flugelhorn), Patrice Rushen & Bobby Lyle (keyboards), Patrick Gleeson (synthesizers), Paul Jackson & Abraham Laboriel (bass guitar) and James Levi & Harvey Mason (drums). Remastered from the original stereo analogue tapes.
"To this writer's knowledge this is the first re-issue (European at the very least) of a 1977 album on Mercury that conjurs up all the intensity of the Headhunters band minus the input of Herbie Hancock. However, when you see the list of musicians and discover that they include Blackbird McKnight, Eddie Henderson and Patrick Gleeson to name just a few, you know that you are in for an invigorating musical journey and with no less than Patrice Rushen replacing Hancock on keyboard duties and Maupin himself leading frequently, this is a Headhunters album in all but name, albeit exploring territory that harks back to Mwandishi in parts. Proceedings start as they mean to continue with the brooding jazz-funk of 'Quasar' in which heavy bassline and subtle fender rhodes combine to great effect. Closest of all to the Headhunters approach is 'Water torture' with the opening fender and bass clarinet attack impressing and as a whole the piece is actually quite orchestral in feel with Maupin backing up on some soulful tenor saxophone. More reflective than spiritual is 'It remains to be seen' which is an album highlight and showcases the wonderful Rushen on an extended keyboard solo. There is, though, something of a mystical quality to 'Eternal Flame'.Some comment must be made of the extensive and informative sleeve notes which are based largely on a interview with and article on Maupin and shed useful light on the development of this band. The first album is coupled with another from just a couple of years later that, while not on a par with the former, is nonetheless worth a visit and makes for a terrific package of two albums for the price of one CD. Definitely one of the most welcome re-issues of the year for lovers of funk-tinged jazz."