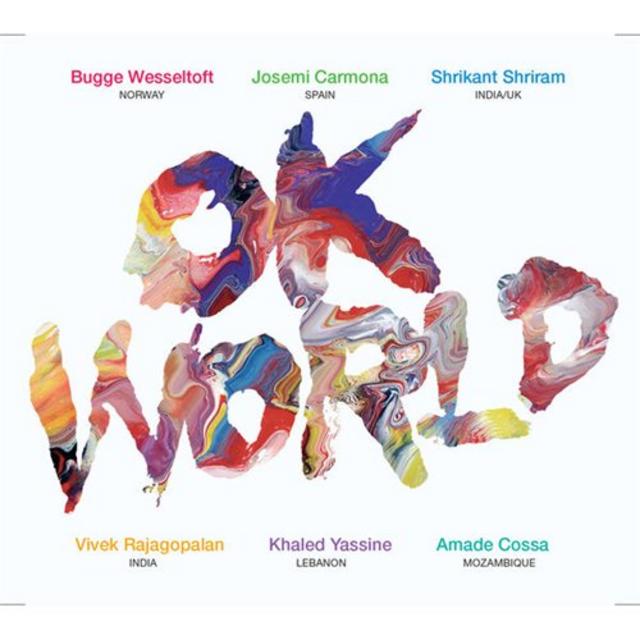 Artist:
Bugge Wesseltoft
Album:
OK World
Genre:
World Fusion, Ethnic Jazz
Label:
Jazzland Recordings
Released:
2014
Quality:
FLAC (tracks+.cue)
Tracklist:
Moving Mountains
Josemi
Always Hopeful
Sharanagati
Mawwal
My World is OK
Mamullah
3 Reasons
Ntwananu
130 Steps
DOWNLOAD FROM FILECAT.NET >>>
Personnel:

Bugge Wesseltoft – piano
Shri Shriram – bass, flute
Josemi Carmona – guitar
Vivek Rajgopalan – percussion (mridangam, cangira)
Khaled Yassine – percussion (darabouka, cahoun, bendir)
Amade Cossa – percussion (djembe, congas, bassdrum), vocals

guests:
Maryam Saleh - vocal (1)
Georges Nehme - vocal (1, 5)
After three solo albums ("IM", "Playing" and "Songs") and several remarkable (and utterly different) duo albums (including "Duo" with Henrik Schwarz and "Last Spring" with Henning Kraggerud), Bugge Wesseltoft returns with his first band since his legendary New Conception of Jazz:
Bugge Wesseltoft's OK World!
OK World features the exceptional talents of flamenco guitarist Josemi Carmona (Spain), multi-instrumentalist Shrikant Shriram (India/UK), percussionists Vivek Rajagopalan (India), Khaled Yassine (Lebanon), and Amadeu Cossa (Mozambique), and guest vocalists Martam Saleh (Egypt) and Georges Nehme (Lebanon), all musicians Bugge has met during his travels and tours around the world.
With his growing fascination with the diverse musical cultures the world had to offer, it was inevitable that the temptation to go beyond occasional collaborations would be powerful enough to generate a band with members from across the world. The geographical and cultural diversity of OK World does not obscure the common elements in the different dialects of musical exchange. When listening to OK World, one becomes very aware of the synchronicity of the musicians. The key reason for this is its unforced nature: the music is organic, springing forth intuitively from the participants, each bringing themselves and their unique idioms and accents to the musical table.
The album abounds with moments of surprise, moments of beauty, moments of whimsy, moments of gravity. The music of OK World is a banner example of the universality of the human spirit as evoked through music, regardless of its origin.
The album opens with "Moving Mountains", and immediately the diverse ingredients become apparent. Bugge's jazz-inflected piano becomes enmeshed in an intricate weaves of melody and percussion, and exquisite vocals. By contrast, "Josemi" is a brief yet poignant solo guitar piece that leads into "Always Hopeful", a piece that gradually evolves into a remarkable vignette encapsulating the possibilities of musical explorations beyond the borders of nationality, culture and genre. "Sharanagatiwav" begins with a percussive build-up, steadily augmented by drones, and then breaking into a carefully chiselled groove, infectious, bursting with a liveliness and energy that beckons the listener to dance. "Mawwal" exemplifies the kind of experimental edge the OK World group is capable of expressing without swamping the listener in an overly intellectual exercise; the piece is infused with both a sense of melancholy and joy – in short, it feels like a celebration of all that life can offer. "My World is OK" is a flagship track, managing to be infectious, cheeky, whimsical, celebratory, slightly ironic, and brimming with the kind of energy that much of today's pop music fails to achieve in its cynical composition-by-committee approach. "Mamullah" feels like the essence of a festival condensed into a few short moments, with everyone within earshot invited to join in the celebration. "3 Reasons" changes the mood to one of contemplation and a degree of introspection, a meditative piece that moves fluidly from frontier to frontier across rich soundscapes with a steady rhythm, progressively evolving and revolving throughout its own themes. "Ntwananu" feels like a brother to "Sharanagatiwav", likewise beginning with an exploration of percussive expression before jumping headfirst into a lively groove and addictive melodic lines. "130 Steps" has a hint of melancholy, a sublime combination of a certain yearning, a contented resignation within a world where everything is indeed "OK", if not in fact better than things at first appear. It teeters on the brink of moments of exaltation, but exercising just enough restraint to create the most pleasant musical tension so rarely present in music these days. The album is peppered with both micro-solos and extended solos, none of which overstay their welcome, each being part of the whole rather than a thief to steal any given song's thunder. The simple joy of participation and collaboration is abundantly obvious throughout, and the pleasures created are passed freely to the listener.
The band has collaborated with the Oslo World Music Festival, nurturing new talent from around the world, creating a musical community as welcoming as it is varied. This project extends beyond the Norwegian frontiers and brings musical communities from around the world to Oslo, and this year saw the incorporation of "Beirut and Beyond".