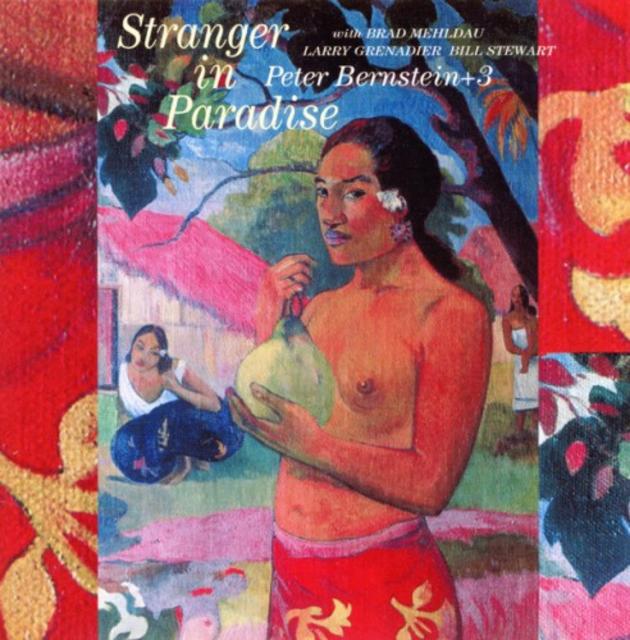 Artist:
Peter Bernstein
Album:
Stranger in Paradise
Genre:
Post-Bop, Contemporary Jazz
Label:
Venus
Released:
2004
Quality:
FLAC (tracks+.cue)
Tracklist:
Venus Blues (Bernstein)
Stranger in Paradise (Alexander Borodin, George Forrest, Robert Wright)
Luiza (Antônio Carlos Jobim)
How Little We Know (Springer)
Bobblehead (Bernstein)
Just a Thought (Bernstein)
This Is Always (Harry Warren)
Soul Stirrin' (Babs Gonzales)
That Sunday, That Summer (Joe Sherman, George David Weiss)
Autumn Nocturne (Josef Myrow)
DOWNLOAD FROM FILECAT.NET >>>
Personnel:

Bass – Larry Grenadier
Drums – Bill Stewart
Guitar – Peter Bernstein
Piano – Brad Mehldau
Guitarist Peter Bernstein is reunited with pianist Brad Mehldau once more (their fourth recording together under Bernstein's name) and also keeps the rhythm section intact from his earlier Criss Cross CD Heart's Content, with Larry Grenadier on bass and drummer Bill Stewart. These rewarding sessions blend elements of hard bop and post-bop, including an intriguing, slightly off-center approach to "Stranger in Paradise" and an intricate, moving interpretation of "This Is Always," a ballad that can become stale in the wrong hands. The quartet also tackles quite a few works that don't get all that much attention, like a greasy arranging of Babs Gonzales' "Soul Stirrin'" and a breezy take of "That Sunday, That Summer," the latter a hit for Nat King Cole during his years as a popular singer. Bernstein also adds four potent originals, all of which set the band afire. It is a shame that Peter Bernstein is overlooked by American record labels, but be thankful that the Japanese know talent when they hear it and invest the time and money to document his work. Highly recommended!
Review by Ken Dryden