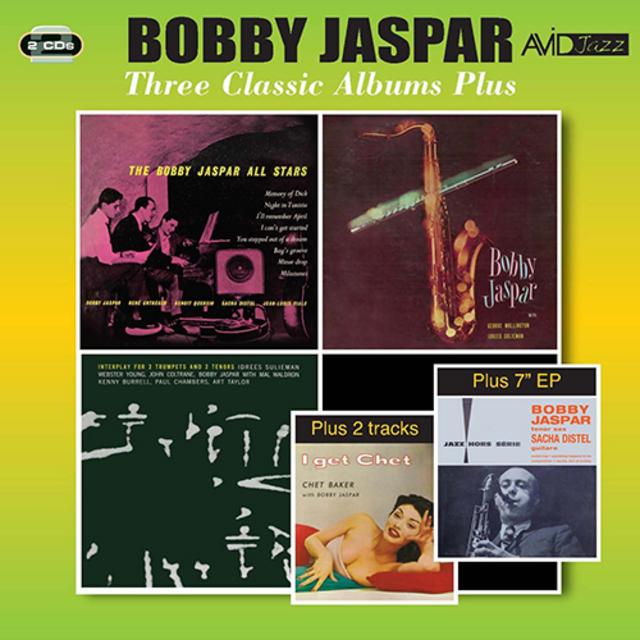 Artist:
Bobby Jaspar
Album:
Three Classic Albums Plus
Genre:
Cool, Mainstream Jazz
Label:
Avid Jazz
Released:
2017
Quality:
FLAC (tracks+.cue)
Tracklist:
CD 1:

Bag's Groove (4:46)
Memory Of Dick (5:38)
Milestones (5:55)
Minor Drops (5:01)
I'll Remember April (5:46)
You Stepped Out Of A Dream (3:37)
I Can't Get Started (With You) (6:06)
A Night In Tunisia (4:07)
Seven Up (9:00)
My Old Flame (6:01)
All Of You (5:56)
Doublemint (6:53)
Before Dawn (6:14)
Sweet Blanche (5:41)
CD 2:

Interplay (9:41)
Anatomy (11:54)
Light Blue (7:52)
Soul Eyes (17:31)
Scotch Hop (2:43)
Everything Happens to Me (4:11)
Competition (3:24)
Sacha, Bill et Bobby (3:50)
How About You (4:32)
Cheketah (6:05)
DOWNLOAD FROM FILECAT.NET >>>
AVID Jazz continues with its Four Classic album series with a re-mastered 2CD release from Bobby Jaspar, complete with original artwork and liner notes. 'Bobby Jaspar All Stars'; 'Tenor & Flute'; 'Interplay for 2 Trumpets and 2 Tenors' plus the .E.P. 'Bobby Jaspar & Sacha Distel' and two tracks from Chet Baker 'I Got Chet'. Don't be fooled into thinking tenor saxophonist and flautist Bobby Jaspar was in the second league of jazz because he was born in Liege, Belgium! Don't forget this is the country that gave us Jacques Brel, Poirot and Tin Tin! And if you still don't believe us just take a look at some of the musicians playing alongside Bobby on our four fine selections: John Coltrane, Chet Baker, Elvin Jones, Mal Waldron, Kenny Burrell, Paul Chambers, Art Taylor, George Wallington and Sacha Distel (don't panic, he's playing superb jazz guitar, not singing!) And if these albums impress you, watch out for another couple of Bobby Jaspar performances on our forthcoming second Herbie Mann release.