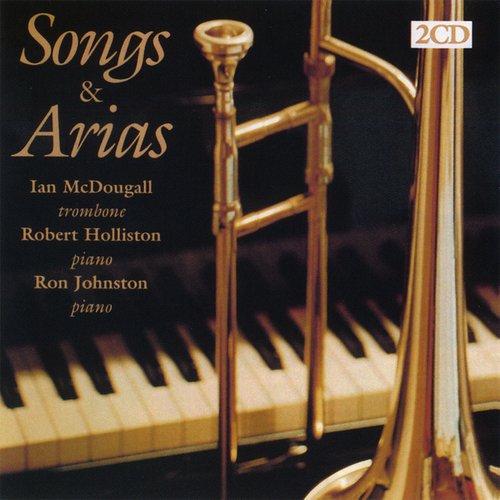 Artist:
Ian McDougall
Album:
Songs & Arias
Genre:
Mainstream Jazz
Released:
1997
Quality:
FLAC (tracks+.cue)
Tracklist:
CD 1 - Songs:

Where or When (Rodgers) - 5:12
A Sleepin' Bee (Arlen) - 5:35
The Best Thing for You (Berlin) - 4:24
Bess, You Is My Woman Now (Gershwin) - 2:59
My Man's Gone Now (Gershwin) - 4:34
I Loves You Porgy (Gershwin) - 4:36
My Heart Stood Still (Rodgers) - 3:50
If I Loved You (Rodgers) - 5:24
All the Things You Are (Kern) - 5:57
They Say It's Wonderful (Berlin) - 4:25
I Love You (Porter) - 5:31
CD 2 - Arias:

Che gelida manina, from La Boheme (Puccini) - 3:57
La Danza, from Les Soirees Musicales (Neapolitan Tarantelle) (Rossini) - 2:56
Au fond (duet with Don McDougall), from the Pearl Fishers (Bizet) - 4:24
Ach so fromm, from Marta (von Flotow) - 2:41
Toreador, from Carmen (Bizet) - 3:15
Intermezzo, from Cavalleria Rusticana (Mascagni) - 2:50
Nessun dorma, from Turandot (Puccini) - 3:08
Una furtiva lagrima, from L'elisir d'amore (Donizetti) - 3:41
The Maja and the Nightingale, from Goyescas (Granados) - 5:19
Donna non vidi mai, from Manon Lescaut (Puccini) - 2:34
Aria, "When the air sings of summer," from The Old Maid and the Thief (Menotti) - 2:36
E luce van le stelle, from Tosca (Puccini) - 2:33

Like his fellow countryman and trombonist Alain Trudell, the remarkably talented Canadian Ian McDougall (not to be confused with Canadian trombonist Rob McConnell, with whom McDougall has performed) offers an unusual double CD; the first is a jazz duo, where the trombonist is backed only by longtime colleague pianist Ron Johnston for a delightfully impressive display of his gorgeous sound. Mining tunes with luscious melodies such as Richard Rogers' "Where or When" and Irving Berlin's "They Say It's Wonderful," McDougall takes his time in showing his inimitable ability to emphasize the wonderfully mellifluous aspects of the tunes. While the jazz content is subordinated to the melodies, there is still enough improvisation by McDougall to show what he can do without losing the essential natures of the songs. The second CD is a complete change of pace, with McDougall backed by classical pianist Robert Holliston for 12 operatic themes performed by McDougall with the same attention to detail and beauty as the jazz numbers. Whether it is Puccini's "Nessun Dorma," Rossini's "La Danza," or Bizet's "Toreador," it is all in good taste with perfect intonation and beautiful sound.
Review by Steve Loewy