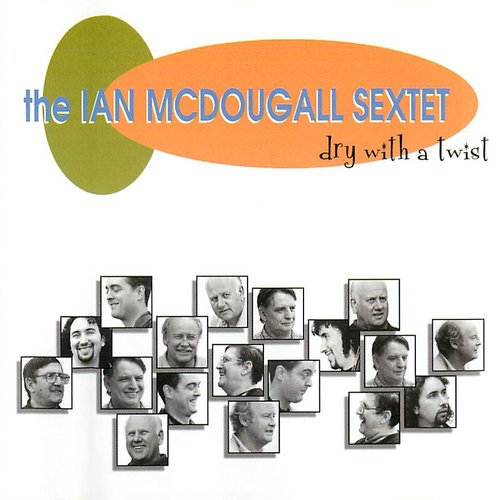 Artist:
The Ian McDougall Sextet
Album:
Dry with a Twist
Genre:
Mainstream Jazz
Label:
Factor
Released:
1999
Quality:
FLAC (tracks+.cue)
Tracklist:
Ian Leaps Out (McDougall) - 5:34
So Nice (Gannon) - 6:25
I'll Be Around (Wilder) - 7:05
I'm Gettin' Sentimental over You (Bassman) - 7:53
Gift of Love (Johnston) - 5:44
Night and Day (Porter) - 9:07
Broadway (Woode-McRae-Bird) - 8:55
Filomena (Johnston) - 5:11
Zimbabwe (McDougall) - 5:47
Blue Cabaret (Gannon) - 6:09
Dry with a Twist (McDougall) - 5:55

Personnel:

Ian McDougall - trombone
Oliver Gannon - guitar
Andre Lachance - bass
Ron Johnston - piano
Ross Taggart - tenor saxophone
Jerry Fuller - drums
Ian McDougall marches to the beat of a different trombonist, perhaps one from decades past but with an updated twist. His distinct, attractively pinched tone and relaxed style, coupled with a technical mastery of his horn, put him in the circle of some of the icons of the trombone from the days before bop, musicians like Jack Teagarden and Jimmy Harrison. Here, in the company of his sextet, McDougall glides through familiar warhorses such as "I'm Getting Sentimental Over You" and "Night and Day" with a handful of originals added to the mix. The trombonist is never less than tasteful, and his solos have the effect of a good brandy warmly hitting the spot. McDougall's improvisations sneak up on you; understated and elegant, they realize a certain sophisticated structure that is only apparent after they are finished. Never engaging in crass exhibitionism, McDougall sports an unpretentious style that trumps many a modernist. Kudos, too, to Ross Taggart, whose highly compatible tenor dances over a superb and understated but highly sympathetic four-piece rhythm section.
Review by Steve Loewy