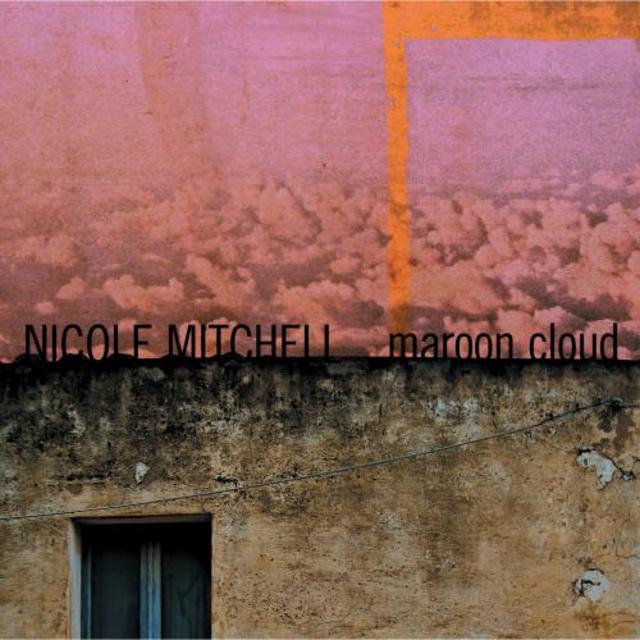 Artist:
Nicole Mitchell
Album:
maroon cloud
Genre:
Avant-Garde Jazz, Modern Creative
Label:
FPE Records
Released:
2018
Quality:
FLAC (tracks)
Tracklist:
warm dark realness 08:28
vodou spacetime kettle 06:09
otherness 08:01
no one can stop us 06:20
endurance 08:31
a sound 09:10
hidden choice 08:30
constellation symphony 10:08

Personnel:

Nicole Mitchell: composition, flutes, electronics
Fay Victor: vocals
Aruan Ortiz: piano
Tomeka Reid: cello
Recorded live at Brooklyn's National Sawdust as part of John Zorn's Stone Commissioning Series, Maroon Cloud is an eight-part chamber suite that develops and expands on the visionary concepts Nicole Mitchell explored on 2008's Xenogenesis Suite and 2017's Mandorla Awakening II: Emerging Worlds. It integrates core philosophical, psychological, and musical tenets as gateways to introduce new elemental concepts sonically, lyrically, and compositionally. Her trio of trusted collaborators includes cellist Tomeka Reid, Cuban pianist Aruan Ortiz, and vocalist Fay Victor. Mitchell's flutes assume a dual role: as a second human voice that reacts to and underscores the character and lyrical content in Victor's singing, and as a bridge of translation for the other players. Mitchell reacts to, predicts, and illustrates the expressions of her collaborators via composition and canny improvisation.
This recording attempts to illustrate that "...Imagination is our greatest human resource and lately we seem to be running low. Yet, imagination is how we co-create our future...." Mitchell's compositions provide musical settings that rely on an uninterrupted flow of space in order to communicate. She allows each musical expression and nuance the freedom to explore. Opener "Warm Dark Realness" commences with Reid's cello and Ortiz's piano engaging in scalar interplay before Mitchell's flute bridges their two poles. Victor's vocal emerges from the center; it inhabits words as shades of meaning to be stretched and reflected on, as the other players react to their own interpretations of them. The effect is otherworldly. That result is echoed and heightened by "Otherness," "Endurance," and "Hidden Choice" -- all seem to emerge from the ether to create light bodies via strategized composed frameworks that reveal directions for individual improvised ideas. In "Vodou Spacetime Kettle," an homage to Bessie Smith, Mitchell and her companions utilize blues to reveal the ground of this space-time continuum. Victor is at her most soulfully expressive, quoting from Smith's songs in a gospel- and barrelhouse-inflected improv interplay with Mitchell's gritty flute, Reid's plucked, bass-like cello, and Ortiz's angular chord voicings. Post-bop, blues, and groove undergird "Nothing Can Stop Us" as Reid and Mitchell vamp on a jazz-blues motif in the extended intro before getting downright funky introducing Victor, who moans the title phrase like a mantra. Ortiz adds arpeggios and fat mid- and lower-register chords. This is an outward (as in communicable) expression of internalized preconceptions and emotions as they engage possibility for the purpose of transformation. That punchy flute introduces the driving Nina Simone-esque romp in "A Sound" as Victor digs into the entire maelstrom of musical motion: Ortiz plays a mutant blues modalism on the keys, and Reid pulses through the changes with rhythmic authority. Closer "Constellation Symphony" seamlessly marries musical ideas from the preceding music with intense, urgent soloing from all three instrumentalists before a spoken word interlude takes it out. On Maroon Cloud, Mitchell points to new horizons for Afro-futurism and human psychology. Hers is an integral sonic conceptualization that communicates even as it illustrates limitless potential for the mind and heart to re-create the world.
Review by Thom Jurek